Qualcomm's President Wants an Interconnected Electric-Car Wonderland
The technology for self-driving, wireless-charging cars is already here.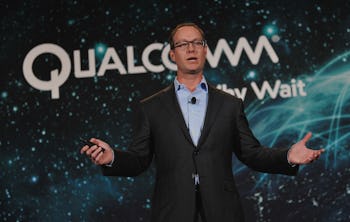 Getty
Self-driving cars are quickly becoming a reality, but getting a car to steer itself is just the tip of the iceberg, according to Qualcomm President Derek Aberle.
During his keynote speech at the 2016 Mobile World Congress, Aberle laid out Qualcomm's goals for the future of communications and transportation technology.
"The car of the future is going to be very different and the way that you interact with it is going to be very different than it is today," Aberle said.
Qualcomm is focusing on expanding their interconnected network of communicating devices. Since the company's founding, they've shipped over 340 million chipsets to vehicle manufacturers, creating the technology that will change cars from analog machines to sophisticated digital devices. Aberle said Qualcomm already had 3G LTE modems in many vehicles, allowing them to communicate directly with mobile data networks.
"The technologies to really evolve the car and provide much more connectivity are here today," he said. Aberle described the many possibilities of interconnected cars — vehicles that could sense pedestrians and obstacles around them, directly communicating with the infrastructure of their environment to navigate safely; self-parking cars that could get data on open parking spaces after their driver got out; and an interconnected network of vehicles that could communicate with one another during traffic congestion to find the quickest way through.
Giving up control of the wheel may not appeal to some drivers, but Formula One racing champion Lewis Hamilton wouldn't mind one bit. Hamilton took the stage with Aberle in the latter half of the speech to discuss Qualcomm's technology — which is in place in the sponsored F1 car he drives — and why he actually kind of hates driving when he isn't on the track. So when autonomous cars hit the streets, he'll have no problem letting Siri take the wheel.
"I think it's exciting," Hamilton said during a panel Tuesday for Mobile World Live in Barcelona. "I can't stand traffic. But … you know if you didn't have to drive you could have all the conversations you wanted."
Sure, conversations. Hamilton isn't joining the rest of you in having filthy sex on the United Kingdom's highways. We also assume he's concerned that such cars will be safe for pedestrians.
Hamilton was joined on the panel by race engineer Paddy Lowe, who said he looked forward to the day when commercial cars were built with engines closer to the Formula on hybrid system. The trio agreed that what's standard for drivers now always makes its way down to the masses, be it the engine or signal sensors that transmit an analysis of the car's operations via wifi before the car comes to a stop.
"Is it the driver or the car?" Hamilton asked. "I'm always diplomatic, so I'll say it's 50-50."