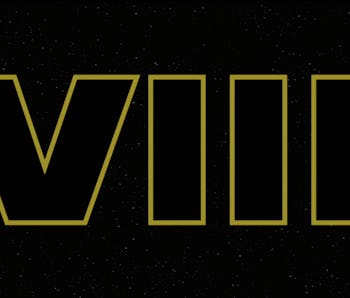 Entertainment
'Star Wars: Episode VIII' Just Got Its Working Title
It has something to do with Carrie Fisher's dog, Gary Fisher.
YouTube
Don't expect to hear the real title of director Rian Johnson's latest installment of Star Wars, the middle portion of the newest trilogy in the space saga, anytime soon. For comparison, Lucasfilm president Kathleen Kennedy and Co. didn't have a title for the first chapter in the new trilogy until well after they announced in October 2012 that new Star Wars movies would be made, and didn't announce the title as The Force Awakens until November 6, 2014, six months after principal photography began. So we'll have to be patient until we know what to call the new one, but for now we can maybe just refer to Episode VIII by its working title: "Space Bear."
The intentionally bizarre title was revealed by star Carrie Fisher on her Twitter account in a tweet that featured her dog, Gary Fisher, lounging on one of the movie's cast chairs. Look closely at the text in the logo and you'll see that the iconic Star Wars font has been changed along with a little panda emoji in the episode number. Space Bear: Episode VIII it is.
Of course, this title is fairly meaningless as most gigantic blockbusters start production under fake names both to throw rubberneckers off as well as delay the inevitable pomp and circumstance of the reveal of the actual title.
This kind of inside joke was popularized with another Star Wars movie, Return of the Jedi, which famously featured the working title "Blue Harvest" along with the fake movie tagline, "Horror beyond imagination" when it was being made in the early 1980s.
The Force Awakens was itself shot under two codenames, "Foodles" and "AVCO," no doubt to try to ensure secrecy.
Whatever this second chapter of the new trilogy ends up being called, we can almost guarantee it'll be better than "Attack of the Clones*.
Space Bear: Episode VIII opens December 15, 2017. The film stars Mark Hamill, Carrie Fisher, Adam Driver, Daisy Ridley, John Boyega, Oscar Isaac, Lupita Nyong'o, Domhnall Gleeson, Anthony Daniels, Gwendoline Christie, Andy Serkis, Benicio Del Toro, Laura Dern, and newcomer Kelly Marie Tran.