Everything We Know About Kelly Marie Tran, the Newcomer of 'Star Wars VIII'
Among the newcomers to 'Star Wars' is an Asian-American comedienne leaping into stardom.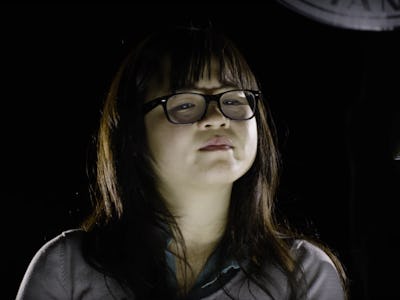 CollegeHumor
Now that Star Wars: The Force Awakens has stayed woke, the Disney machine continues chugging as production begins for Star Wars: Episode VIII, directed by Rian Johnson and scheduled for release December 15, 2017.
Announced today on the official Star Wars website, much of the Force Awakens cast will return, even Gwendoline Christie whose Captain Phasma went out like a total punk, as well as newcomers to the Star Wars universe: Academy Award winner Benicio Del Toro, Oscar nominee Laura Dern, and Kelly Marie Tran.
You know Benicio Del Toro from watching Fear and Loathing in Las Vegas on repeat in college. You know Laura Dern because of Jurassic Park. But do you know Kelly Marie Tran? I could summarize her Wikipedia page for you, if it weren't for the fact she doesn't have one. So here's everything you need to know about actress and comedienne Kelly Marie Tran, one of the new faces of Star Wars and whose action figure you will probably fight with 8-year-olds over come Force Friday two years from now.
Kelly Marie Tran began her career around 2011, starring in various web skits and obscure pilots for shows never picked up. Her first major role came in the short-lived NBC sitcom About a Boy, playing the recurring character Marguerite. She continued doing pilots and TV movies until her regular spot in CollegeHumor's slate of original web sketches in 2014.
Here she is as the "Full Asian" voter in the skit "Not Asian Enough."
And here she is in "If You're Only 20-Something, Stop Saying You're Old," which I needed to watch after channel surfing through MTV this weekend.
She also had a bit role in the web series Ladies Like Us, a single-camera sitcom about struggling female comedians living in Los Angeles.
Her other movies, Pub Quiz and XOXO, have entered post-production and will release this year, as will her role in an installment of Fall Into Me, a digital platform created by the Lifetime network. And that's it, until today with Star Wars: Episode VIII.
It's a major movie for a relatively new actress, but the same thing pretty much happened to Daisy Ridley, who leaped from obscurity into stardom after The Force Awakens. It's unknown what role Tran will play in Episode VIII, but hopefully, it's something befitting her natural comedic talent.
Or maybe her singing talent, too. She has a YouTube channel not updated since 2010, in low-quality videos of her singing piano covers with a friend.
Star Wars: Episode VIII releases December 15, 2017.