'Episode VIII' Teaser Shows New Footage, Announces New Cast Members
Benicio Del Toro and Laura Dern officially join the cast of director Rian Johnson's newest installment of the 'Star Wars' saga.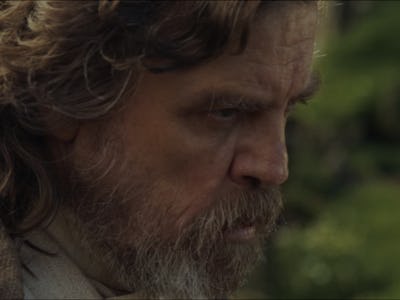 YouTube
Last week we brought you the news that Star Wars: Episode VIII officially began production. Now, StarWars.com has made it official with a brand new teaser that includes some new footage and some news on new members of the cast.
Check out the official announcement and the teaser below:
"Rey took her first steps into a larger world in Star Wars: The Force Awakens and will continue her epic journey with Finn, Poe, and Luke Skywalker in the next chapter of the continuing Star Wars saga, Star Wars: Episode VIII, which began principal photography at Pinewood Studios in London on February 15, 2016.
"Star Wars: Episode VIII, which is written and directed by Rian Johnson and continues the storylines introduced in Star Wars: The Force Awakens, welcomes back cast members Mark Hamill, Carrie Fisher, Adam Driver, Daisy Ridley, John Boyega, Oscar Isaac, Lupita Nyong'o, Domhnall Gleeson, Anthony Daniels, Gwendoline Christie, and Andy Serkis. New cast members will include Academy Award winner Benicio Del Toro, Academy Award nominee Laura Dern, and talented newcomer Kelly Marie Tran."
So according to the official site of the galaxy far, far away, director Rian Johnson and the rest of the Star Wars gang is officially getting the next chapter of the saga underway with principal photography beginning on February 15. The news comes after Disney CEO Bob Iger confirmed during a company earnings call that production had begun, while Johnson shot some scenes for Episode VIII last year in Ireland at a location seen at the end of The Force Awakens.
If that wasn't good enough, Benicio Del Toro is officially in the cast (and will most likely play a villain of some kind) and so is Laura Dern! This is the first mention of Dern's involvement, so let the speculation begin on whom she may be playing. We'll go ahead and say we hope she's a member of the Resistance fighting alongside Leia.
Also announced was actress Kelly Marie Tran, who previous appeared in a handful of TV series and looks to be this episode's version of a Daisy Ridley-type unknown who will hopefully put in as memorable a performance as Ridley did in The Force Awakens.
And here we thought all the Star Wars news was about to die down. Star Wars: Episode VIII is scheduled to be release December 15, 2017.