Jackie Treehorn's 'Big Lebowski' House Will One Day Be Open to the Public
Investor James Goldstein bequeathed Jackie Treehorn's home in 'The Big Lebowski' to LACMA.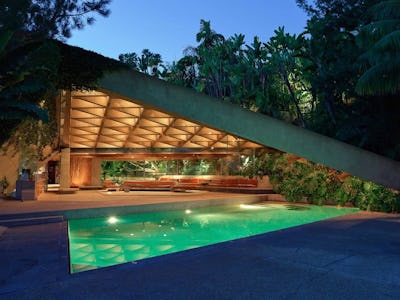 Photograph: Jeff Green/LACMA
"This is quite a pad you got here, man. Completely unspoiled," Jeff Bridges as the Dude tells pornographer Jackie Treehorn in the Coen Brothers' cult classic The Big Lebowski. He then places his bottom on the delightful, mid-century modernist, built-in, poolside seating and asks for a White Russian (a caucasian in Dude terms). This pad, well known for its appearance in Hollywood films as well as being the spot where Rihanna celebrated her 27th birthday, will be gifted to Los Angeles County Museum of Art (LACMA) upon the death of its owner, investor James Goldstein.
The $40 million modernist Sheats-Goldstein home was built in 1963 and offers views of both the Pacific Ocean and downtown Los Angeles. All glass, concrete, leather, and purely sexy, the house was built by John Lautner, a student of Frank Lloyd Wright. The current owner added tropical gardens, but maintained Lautner's vision of the place.
Not only will the house be bequeathed to the 50-year-old contemporary art museum, according to Conde Nast Traveler, LACMA will also score all his clothes, works by artists like Ed Ruscha, James Turrell, and Kenny Scharf, a "detached nightclub," infinity tennis court, and a 1961 Rolls Royce Silver Cloud. Once LACMA gets this — its first architectural acquisition — it will be open to the public. Plan your caucasian-filled flask accordingly.
And to augment the visual elegance of James Goldstein's home, let us offer some eternally memorable lines that were spoken on its premises.
"You know, people forget that the brain is the biggest erogenous zone," Ben Gazzara's Treehorn character says.
"On you maybe," the Dude responds.
"Of course, you have to take the good with the bad. New technology permits us to do very exciting things in interactive erotic software. Wave of the future, Dude. One hundred percent electronic."
"Well, I still jerk off manually."