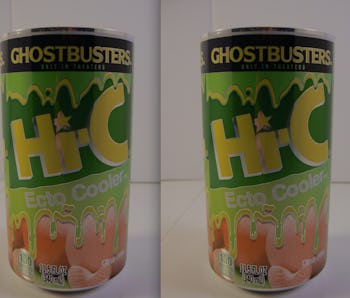 Entertainment
Paul Feig Seems to Confirm 'Ghostbusters' Ecto Cooler Is Making a Comeback
It isn't a juice box, but it's enough.
http://www.ebay.com/usr/rkv-ent
It's T-minus five months until director Paul Feig's Ghostbusters reboot hits theaters, and though we've had our first look at the kinds of toys that will be released along with it and word that the first trailer will hit in early March, we haven't seen any of the other marketing tie-ins. We haven't seen any, that is, until now, and it's quite possibly the most delicious throwback Ghostbusters tie-in you could dream of — and not in a Ray Stantz way.
Word got out last November that Coca-Cola had re-registered the trademark for Ecto Cooler, the Ghostbusters-related juice drink staple of many an elementary school lunch. It was sugary; it was green; it had Slimer on the box: It was awesome. Just because the omnipotent soft drink gods at Coca-Cola decided to re-up a trademark didn't mean much, but with Feig's reboot on the way the opportunity seems to have become too good to pass up.
While there hasn't been an official announcement just yet, it seems like we have a fairly solid guarantee that the Ecto Cooler is coming back, unless someone tried way too hard to pull a fast one on fans.
Images of what are purportedly a test can of new Hi-C Ecto Cooler have popped up for auction on eBay. The bidding is currently up to $220.50 for the single can, with bidding set to end on Sunday. Check out images of the can below:
The description explains that there's, unfortunately, no actual juice inside and the can was given to the eBay user by a friend who works for a marketing company (that one assumes is working on the movie). It looks real enough, with the nutrition facts and brand labelling at the top, promising "Ghostbusters, Only in Theaters," but that kind of thing could easily be faked. It's also not in the old school box the originals came in, though a product sample of potentially new juice boxes leaked too, just without the branded packaging. And one iconic thing is missing from the can as well: Slimer.
And, now, Feig has chimed in, answering a Twitter query from WWE wrestler Zack Ryder — can't make this stuff up — and another fan about if the delicious juice shall be ours.
Will we be able to guzzle down that Ecto Cooler just like old times before buying tickets to the Ghostbusters reboot when it's released in theaters on July 5, 2016? It seems so. Let mass hysteria reign.