'Ghostbusters' Lego Set May Reveal New Villains
Fans are grasping for hints of what this movie will be about, and we may have found the next big one -- in Lego form!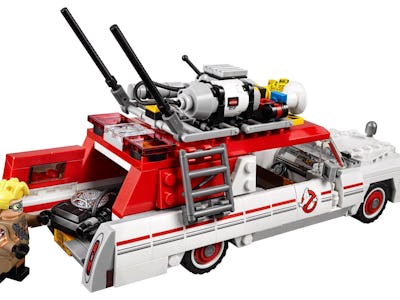 www.facebook.com/LEGO
Relatively unexciting world of Legos, meet the relatively unexciting world of Ghostbusters merchandising. We've already made our case about how pumped we are for Paul Feig's talent-filled Ghostbusters reboot, but when it comes to the marketing, nothing has blown our minds yet. Instead of a teaser trailer or any new clips, we now have a newly announced Lego set to offer some minute insight on what to expect.
After sharing some action figures last month, Lego just announced that they will roll out a set of mini versions of Kristen Wiig, Melissa McCarthy, Leslie Jones, and Kate McKinnon busting Lego ghosts. No shortage of female toys here.
There's also a Lego version of Chris Hemsworth's secretary, Kevin, suiting up for some paranormal action, as well.
Besides the revamped classic car — still called the Ecto-1 — Hemsworth's character rides a logo-emblazoned dirt bike conveniently called the Ecto-2. But look closely and little Lego Kevin's eyes are blood red. Might the new Ghostbusters secretary get possessed at some point? Here's a closer look, via Yahoo!
Beyond the endless photos of the main ghost-busting squad, and some rumors as to whom they may be fighting, we haven't seen what any of the villains will look like. The Lego announcement also gives a peek at a spooky-looking guy called the "Red Daemon." Horned hat, translucent veiny wings, lightning eyes — yeah, we can definitely see how this dude could be creepy as hell on screen.
Feig announced that the first trailer will be coming toward the end of the month of February and not during the Super Bowl, as many fans had hoped.
Ghostbusters will haunt theaters on July 15.