Hasbro Argues Including Rey in 'Star Wars' Monopoly Would Have Been a Spoiler
It's a board game controversy!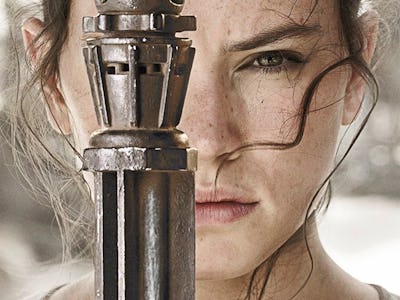 Star Wars
Hasbro, the people who brought you Monopoly: The One About Heinz Ketchup, Seriously, are now explaining the September release of Star Wars Monopoly: We Totally Didn't Cock It Up By Excluding Women Edition. In this Star Wars version of the real estate swapper, you can play as Finn, Kylo Ren, Darth Vader, and Luke Skywalker — but not Rey.
Whoops?
The toy company's defense, per a statement to Entertainment Weekly, presents Hasbro as a friendly narrative gatekeeper. This defender of fans — people like you — doesn't hold antiquated views about game pieces and gender, it just hates spoilers:
"The Star Wars: Monopoly game was released in September, months before the movie's release, and Rey was not included to avoid revealing a key plot line that she takes on Kylo Ren and joins the Rebel Alliance."
We haven't played Star Wars Monopoly, but we're assuming it hasn't ripped out the "Fast-Dealing Property Trading Game" guts and stuffed in a deck of Force Awakens trivia. Maybe there could have been an anti-spoiler case to be made, if Hasbro decided that all the figures needed to hold lightsabers while they stabbed their way into paying property taxes. Except that's not what happened:
If Finn can tote a blaster as he mulls building a hotel on Kashyyyk, there's no reason Rey couldn't be jousting through space jail with a wee plastic staff. That "Rey is good" is as much a spoiler as "Finn wears spiffy jacket" — we knew in August that "desert scavenger" Rey and "runaway stormtrooper" Finn teamed up to flee sinister forces.
Hasbro made up for the lack of Rey by including the main character in toy collections of — oh, wait, haha, no.