Lego Unveils Ridiculously Priced 'Ghostbusters' Firehouse Set 
I ain't afraid of no ghosts but I'm a little afraid of that price point.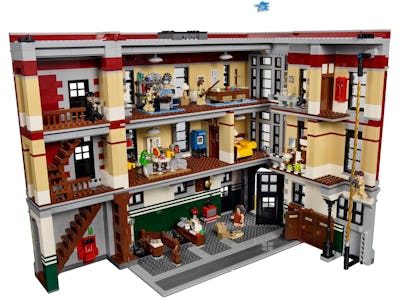 www.facebook.com/LEGO
Are you a Ghostbusters fan with $350 to spare? Lego just unveiled the first photos of the new 4,600-piece Firehouse Headquarters set from the classic movie. It's cool and all, but let's face facts: Standing at 14 inches high, this multi-hundred-dollar set from a 30-year-old movie, that comes with with thousands of pieces, basically proves once and for all that Lego sets like these aren't for kids.
But if you have the dough, the set looks fly as hell. Among those thousands of pieces you get nine minifigures including all the original Ghostbusters lineup along with Slimer, Janine Melnitz, Dana Barrett, Louis Tully, the library ghost from the first movie, and more. If you've ever wanted Rick Moranis in Lego form then that time is now.
Curiously enough, a lot of the scenes in the set you can recreate are from the much maligned sequel. There's the toaster on the pool table (you'll have to make it dance on its own) and even the darkroom going up in flames with Lego Vigo the Carpathian lurking in the background. But you'll get plenty of opportunities to play with the mini Ghostbusters themselves chowing down on pizza and beer at their unkempt kitchen or Egon experimenting on Louis Tully. Sounds like fun?
If you're the unimaginative type, Lego offers these overly hyped prompts:
Slide the Ghostbusters heroes down the fire pole into action.
Chase the ghosts and secure them in the containment unit.
Turn the old librarian lady into a scary ghost with the double-sided face and extra wig!
Run tests on Louis in the lab to see if he's possessed!
Suspend ghosts around the building's exterior with attachable transparent arms.
Dodge the slime oozing up through cracks in the pavement.
Okay, we admit that slime detail is cool. But $350 for this behemoth seems a bit much. But if we know anything it's that collectors are willing to fork over a ton of money for what they love. Plus completists will need it to go along with their Lego Ecto-1 set. But you'll have to wait a bit longer to bust Lego ghosts.
The set doesn't begin shipping until January 1, 2016. It's the perfect amount of time to save up money and let the fact sink in that you're spending $350 on plastic blocks.