First Teaser for the New 'Ghostbusters' Movie Has No Ghosts or Ghostbusters
It's not even a trailer. It's a teaser to a trailer.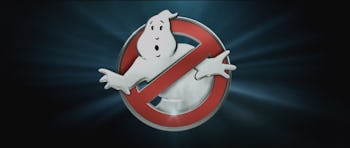 YouTube
Picture this: After months of whiny internet writers imploring the new Ghostbusters movie to separate itself from the original by showing some new footage or something other than stars Kristen Wiig, Melissa McCarthy, Leslie Jones, and Kate McKinnon standing in front of various backgrounds, director Paul Feig drops an epic trailer during the Super Bowl. Unfortunately, that didn't happen, and instead of banking on any post-big-game buzz going into McCarthy joining her fellow Ghostbusters cast members Jones and McKinnon on SNL this past weekend, we get something worse: a teaser trailer for the actual trailer.
Feig fibbed a bit, telling his Twitter followers that a new trailer would drop by the end of February. It seems they're taking their sweet time unveiling the movie, which is set to be released in the thick of summer movie season in July. And fans who have been eagerly anticipating anything will just have to keep waiting. The teaser for the trailer (a trailer teaser?) promises that we'll finally get to see the new Ghostbusters in action on March 3.
Check it out below:
Besides the fact that teasers for trailers are ridiculously annoying, what's worse is that this shows absolutely nothing other than a bunch of army dudes pointing their guns at something and New York police cars driving down the middle of a street. There's no ghosts, and there's no Ghostbusters. What gives?
This footage, which is also bizarrely dramatic in tone, could have literally been taken from any big budget movie and slapped together with "Who You Gonna Call" title cards. In fact, it kind of resembles that scene from The Amazing Spider-Man 2 where bunch of people gathered to watch Spidey battle Electro in Times Square. So fans of crappy Spider-Man movies will get a kick out of this, but Ghostbusters fans? Probably not. March 3 can't get here soon enough.
Ghostbusters hits theaters on July 15.