Inside the Broke University of Oregon Co-Op Being Used to Critique Socialism
"Affordable housing for students is our primary goal."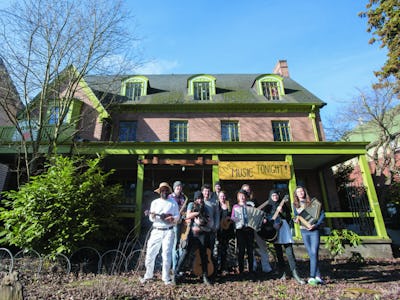 Campbell Club
On many college campuses in the United States, cooperatives or collective living arrangements provide affordable housing and a safe space for students to discuss and organize campus-related politics. At the University of Oregon in Eugene, the Campbell Club is a longstanding socialist coop that houses students from the university and the nearby community college.
Last week, conservative news outlets, including the Independent Journal, The Libertarian Republic, and Total Frat Move, which exists, published articles about the Campbell Club's inability to pay last month's rent, directly connecting the financial issue to the house's socialist policies. This was, to put it lightly, disheartening for the inhabitants and staff of the residence, who don't see themselves as a particularly trenchant touchpoint in the national conversation about socialism triggered by the Bernie Sanders campaign.
Inverse spoke to Melanie Sicotte, the business manager of the Student's Cooperative Association, to get the inside scoop on what actually happened and what it's like to find one's housing situation used to comment on a presidential election.
Could you tell me about what the inability to pay the rent actually means?
It's actually an issue of extremely low membership, so low a number of people paying rent in the house and thus not being able to meet regular bills.
What we're trying to deal with is why we have such low membership, why we're not a more popular alternative for affordable student housing, why more people don't know about us.
Could you tell me a little bit about the history of the house and its connection with a socialist outlook?
The cooperative housing began here on the University of Oregon campus back in the 1930's. A group of men decided to take to heart a fellow student's graduate thesis on social health groups, cooperative self-help groups that were going on prior to the New Deal going into effect during the Great Depression. They decided to put that in the form of affordable housing for students going to the University of Oregon. So the first house was the Campbell Club. It didn't necessarily exist in its exact location right now, it has moved around, but it has been around since roughly 1936. In 1970 is when it went co-ed with women's housing, although women's cooperatives did exist in the late '30s as well and the whole point was to be affordable housing for students. Young men were coming back from the war with their GI bill to pay for tuition but no expenses to cover housing, and so, again, to stay as affordable as possible is the main goal. And it's done by living collectively. These are physically old sorority houses, so individual bedrooms but shared bathrooms and kitchens and everybody who lives here does everything for the houses.
What kind of students are living there nowadays?
It is almost equal University of Oregon students and Lane Community College students. It tips back and forth and sometimes people are dual enrolled in both, though we do accept students from any accredited school of higher education.
What would you say to a conservative who might use this example of not being able to pay the rent as ammunition against socialism?
Fiscally, we make significantly more sense than any other housing situation. We are the most affordable housing. Outside of politics — never mind socialism, never mind capitalism, conservatives etc. — we are affordable housing. That's the long and the short of it. We are literally on campus too. You open our front door and you are staring at the university.
Moving forward, what are your plans to get the amount of people living in the house up?
Short term, it's extensive recruitment. I don't know how we'll do in terms of large numbers for the rest of this school year, but this is our active term for recruiting for the fall term so I absolutely, with recruitment and a great deal of publicity, want to let people know that we are now scheduling housing for the fall term. And so that is our real push. Short term, we'd like to get a number of people in here, but we really need to fill up housing for fall.
Why is Campbell Club important?
There are so many expensive options that are going up around the university, and they're about to set a requirement that all freshmen have to live in the dorms whether they can afford it or not, so it's a little frustrating in terms of the university's outlook on housing in general.