The First Emotional Games Awards Honored Helplessness
The big winners included 'That Dragon, Cancer,' 'Everybody's Gone to the Apocalypse,' and 'Her Story.'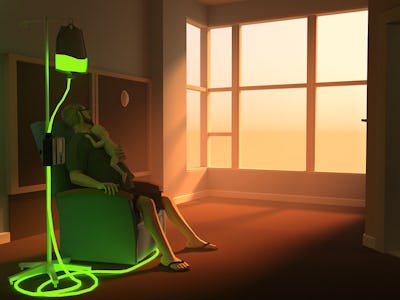 The winners of the first annual Emotional Games Awards were announced over the weekend, and Sony's Everybody's Gone to the Rapture was the only game to take home two awards, for Music and Artistic Game Achievement.
We ranked the nominees for Best Emotional Mobile & Handheld Game back in January, picking Out There as the best of the lot because of its scope and technicolor art. The actual judges went with Her Story, from Sam Barlow, which was widely lauded as mobile gaming's answer to Serial.
Though Everybody's Gone to the Rapture, a slow and contemplative exploration of a town post-apocalypse, won the most awards, the highest honor went to Life Is Strange, which relied heavily on an illusion of quirkiness while also serving as a trenchant meditation on adolescence. It was [a much prettier, but still somewhat slow version of the Purple Moon games.
Sens, which was based on a graphic novel, was awarded Best VR Game, which was a bit of a surprise, considering the other nominees in the category were much more colorful, immersive, and flashy. Sens is, notably, enjoying a tour of screenings at film festivals, making it a hybrid of artistic influences with a very large target audience. Though VR developers may not consider it the most advanced example of their medium, Sens does have an appeal that reaches beyond VR nuts, which is admirable.
Overall, the trends reflected by the winners of the Emotional Gaming Awards are the inclusion of women's stories into gaming culture, gameplay that emphasizes the player's helplessness or ironic lack of agency, and use of a lyrical soundtrack.