'Ghostbusters' Get a New Ride With First Official Look at the Ecto-2
Now all we want is the trailer!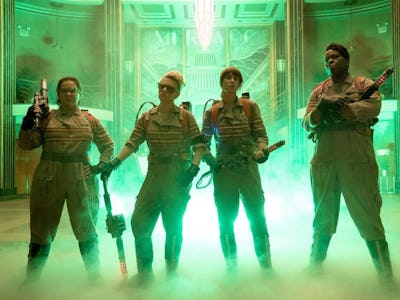 Ghostbusters.com
This summer, director Paul Feig will bring a whole new lineup of excellent comedians to the big screen to help bust a series of history's meanest, dead-est bad guys in his reboot of Ghostbusters. He's even bringing back a newly designed version of the iconic Ecto-1 car as their main mode of transportation to help defeat a new series of spooky specters. But there's something else he's adding other than Kristen Wiig, Melissa McCarthy, Leslie Jones, and Kate McKinnon. The new Ghostbusters will also get a brand new ride.
First, here's the synopsis that debuted on Entertainment Weekly last year:
"Dead criminals from all eras of New York's under­belly past have returned to roost among the living in Paul Feig's Ghostbusters reboot. Pilgrims, old-­timey sailors, Revolutionary War spirits, and even a couple of zoot­-suited gangsters are ready to take on four formidable female busters looking to rid the city of its phantasmic filth."
IGN debuted the first official image of the Ecto-2, a fairly badass looking dirt bike emblazoned with the iconic No-Ghost logo with a helmet to match. Ghostbusters completists may also recall that The Real Ghostbusters animated series had its own Ecto-2, but that vehicle was an autogyro.
Fans got their first look at the two-wheeler from a Ghostbusters Lego set that was revealed by Lego and Feig last week, and it gives you some idea of whom we'll get to see riding this new motorcycle.
Based on simple sleuthing from the Lego set, it seems like the Ghostbusters' new secretary Kevin (played by Liam Hemsworth) gets into the action too and takes to two wheels to help out his fellow ghost-busting employees. The design of the motorcycle itself is fairly practical, with a proton pack on the back outfitted to shoot a beam rigged to the front to capture any errant ghosts. But if the Lego set is any indication, Kevin gets possessed by one of the villainous spirits, so, hopefully, someone out of the main group gets to hop on the bike, too.
We've been treated to a lot more from Feig's Ghostbusters as of late, which was one of our main gripes with the movie. There've been new photos and sneak peeks at toys, and according to Feig the trailer is expected to debut any day now. The film hits theaters in five months, and we're all chomping at the bit to see what Feig and company has delivered.
Ghostbusters will be released on July 15, 2016.