'Ghostbusters' Reboot May Borrow Plotline From First Draft of the Original
'Entertainment Weekly' has a brand new photo and a short synopsis of director Paul Feig's retooling of the comedy classic.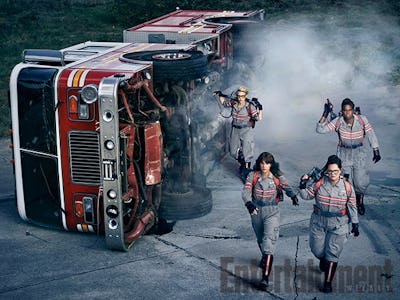 EW
Some of the new plot details emerging about director Paul Feig's upcoming Ghostbusters reboot will sound very familiar to fans devoted enough to have gone back and read the original script.
Courtesy of Entertainment Weekly, here's a short synopsis:
"Dead criminals from all eras of New York's under­belly past have returned to roost among the living in Paul Feig's Ghostbusters reboot. Pilgrims, old-­timey sailors, Revolutionary War spirits, and even a couple of zoot­-suited gangsters are ready to take on four formidable female busters looking to rid the city of its phantasmic filth."
We vote Dance as an old-timey sailor, for sure. But for however vague EW's rundown is, we can't help but be reminded of its similarities to Dan Aykroyd and Harold Ramis' first draft of the original Ghostbusters. In that ill-fated first pass at telling the tale of a bunch of down and out former professors battling the ghosts of the dead, the busters themselves travelled through space and time to fight dozens of different spirits. This new Ghostbusters movie just flips that idea to have all kinds of different ghosts and goblins run amok in New York.
Granted, we're all for Wiig and her ghostbusting posse to have at it, but with Feig so adamant at starting from scratch it's interesting they'd go back to a concept that should be familiar to all Ghostbusters superfans. We ain't afraid of no ghosts, or this storyline.