'Game of Thrones' Season 6 Photos Reveal, Guess What, Spoilers
Season 6 gets a bloodbath of new photos. Who will die next?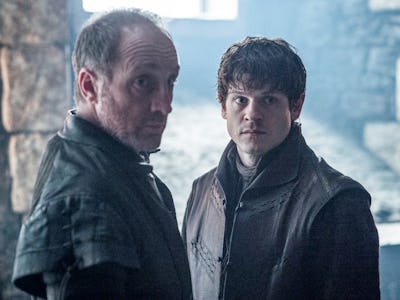 Season 6 of Game of Thrones is almost upon us. Variety just released 20 images from the upcoming season and here are some of the biggest spoilers and surprises contained within.
Variety says:
"The new images reveal the status of some characters whose fates were left uncertain in the Season 5 finale, including Sansa Stark (Sophie Turner) and Theon Greyjoy (Alfie Allen), last seen jumping from one of Winterfell's perilously high walls. Theon's not the only Greyjoy spotlighted in the new images — his sister, Yara (Gemma Whelan), and father, Balon (Patrick Malahide), also make appearances in the stills, implying that the inhabitants of the Iron Islands may play a larger role in the ongoing battle for control of the Seven Kingdoms this season."
We have Bran back after a season off and he's with Max von Sydow's mysterious new character. His sister Arya is also looking pretty terrible, after having a rough resolution to Season 5.
Bran done grown up. Damnnnn, gurl.
Doesn't look good.
Oh my God, what happened to their arms?!
Oh, this is actually a pretty big deal. Kinda surprised they released this? That's … super upsetting.
I ship them. I mean, to the degree you can at this point.
No, there are no pictures of Kit Harington, but Jon Snow is in the S6 promotional materials so, like, duh.
In the meantime, we've got a glam rock album, some Instagram accounts, and a morality alignment to hold you over.