The 'Silicon Valley' Season 3 Trailer Shows Pied Piper Stuck in Startup Mode
Watch a new 30-second teaser to hold you over until you're officially back with Pied Piper.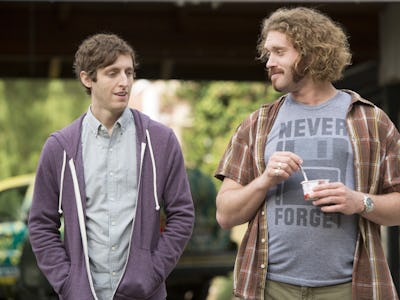 HBO
Silicon Valley has declared the return date for its upcoming third season, Sunday, April 24. Bet you regret canceling that HBO Now subscription, don't you?
In a new 30-second teaser posted on the show's official Twitter, Richard and the Pied Piper startup continue to struggle to secure stable financing, as well as secure stable personal lives, because what else would a Mike Judge sitcom be about. But they do look rather close to a decent deal, but I've seen the desk gag before. (On Will & Grace, which is unfortunate.)
Side note: how many more years until Pied Piper should stop becoming a startup? Three years is getting up there. Wonder if Season 6 and the show is still about these scrappy yet nihilistic go-getters in the tech field.
If April 24 is a bit too far away, Kumail Nanjiani is having fun making The X-Files podcasts, not to mention guest starring in them, while T.J. Miller has a million supporting roles, including one in Marvel's Deadpool. He's actually great in it, too, but there was never any doubt.