Gwen Stefani's Target-Backed Grammy "Live Music Video" Is a Dumb Idea
The singer will publicize the single from her new album 'This Is What the Truth Feels Like' on Monday.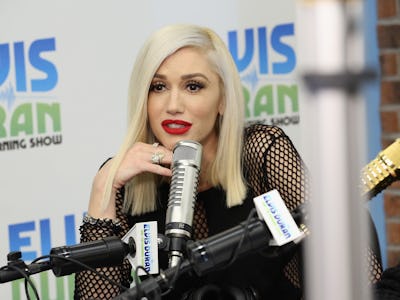 Robin Marchant/Getty Images
Pop artists are doing all sorts of unusual things to promote and debut new music, whether it's Rihanna with her Samsung app, Beyoncé with her Super Bowl hype cycle, or Kanye with his now-hellish album rollout, which thankfully (hopefully) will be over tonight. Now Gwen Stefani — the ever-chameleonic former No Doubt singer and erstwhile pop diva — is trying her hand at a radical new release strategy. The only problem is: it's pretty stupid.
Stefani's thought-provokingly-titled new album This Is What the Truth Feels Like is out March 18, and Stefani is set to premiere its first single tomorrow. But the real presentation will come at the Grammys on Monday night, when Stefani will fill up a commercial break slot by broadcasting a "live music video."
The question may run through your mind: How is this really different from a glorified live Grammy performance? After all, these awards show performances are usually elaborate. Well, we can expect "acted out" sequences — so more of a narrative than usual — and presumably different sets and production values. Maybe it will be a little like a TV musical, but with the recent Grease: Live!, Peter Pan, and The Wiz primetime productions, that's not an anomaly at all.
Stefani is waiting (for us) to be impressed, as a great man once said, and yet the concept seems decidedly underwhelming. Plus, as Billboard points out, Erykah Badu and great tech innovators Death Cab for Cutie have attempted similar projects before, though not on broadcast TV.
Another regrettable element of this — which calls back to a little under a decade ago — is the fact that this enterprise is being sponsored by Target, a long-time ally of Stefani's. The company is also releasing a Target-only version of her new album. Did Target tell you this was a cool idea, Gwen? Is someone with a "Target edition" of her album ever going to be a game-changer? What does the rest of No Doubt think about all this?
Rihanna's rollout postulates that kind of silly corporate sponsorships are the way of the future. But the Stefani concept, despite its coveted Grammy slot, feels like the Diet Rite to Rih's Coca-Cola.