Chipotle Blames Salmonella Outbreak on Tomatoes and Sick Workers
And it wants to give you a free burrito for your troubles.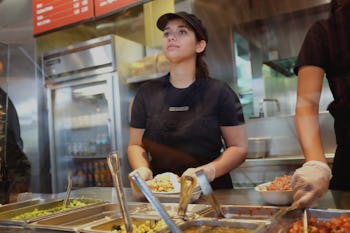 Getty
Even the CDC had a hard time pinning down patient zero in the norovirus outbreaks that sickened Chipotle customers last year, but now the chain is blaming sick employees and bad tomatoes for at least one case of salmonella poisoning.
Chipotle closed all of its stores nationwide until 3 p.m. Eastern on Monday so that the company could retrain all its employees in proper health and safety practices, and live-tweeted the proceedings. Those protocols include the end of dicing tomatoes in individual restaurants, as the chain believes that was the likely cause of a salmonella outbreak in Minnesota and Wisconsin. That duty will now fall to a central kitchen, where lettuce and peppers will also be tested.
"That's one of the reasons why we no longer dice tomatoes in our restaurants," read a Chipotle statement on the new protocols.
The company is also asking sick workers to start staying home and out of the restaurant until at least five days after symptoms have disappeared. To make sure they can actually afford to stay home, workers will now get sick pay for those five days. Until now, they only had two days of paid sick leave. If a worker gets sick on the job, the restaurant will be closed immediately.
"If you are feeling sick, or if you have vomited, either at work or at home, you need to tell your manager or field leader immediately," co-CEO Monty Moran told workers, according to a Fast Company reporter who sat in on the training.
Meanwhile, the CDC's investigation into the larger E. coli outbreak that sickened at least 60 people in multiple states is closed with no cause cited.
The silver lining: there's still time to get a free burrito out of this, should you trust Chipotle to make it for you. Just text "raincheck" 888-222 and the company will tag you back with a coupon for a free burrito in a few days. Officially, Chipotle says the promotion is to apologize for screwing up your lunch plans this afternoon, but I think we all know what larger, unspoken apology is happening here.
I mean, this girl is looking right at you.
Who knows if she was serving at the Eatontown, New Jersey location, which was just one restaurant to fling its door open with a deluge of free food for the masses who waited out today's training: