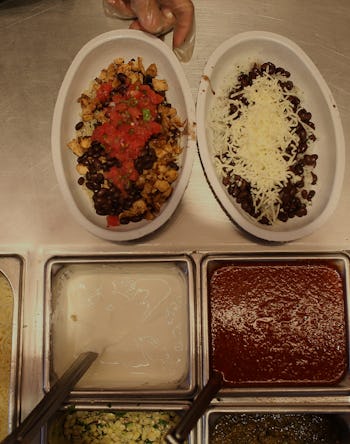 Science
Why Chipotle's E. Coli Outbreak Will Go Unsolved
The CDC announced Monday it couldn't pin down the ingredient.
Getty
Chipotle's stock is up 4.9 percent as the Centers for Disease Control says the E. coli outbreak linked to its restaurants that sickened at least 60 people seems to finally be over. But it looks like we'll never know which ingredient caused the outbreak.
The CDC announced today that the most recent illness reported began on December 1. The chain shuttered 43 of its restaurants on November 1 after the initial outbreak with 22 people falling ill in Washington and Oregon, which quickly oozed across the nation like so much dripping queso.
"Most ill people in these outbreaks ate many of the same food items at a Chipotle Mexican Grill restaurant," reads the CDC report before explaining why it was difficult to pin down the problem: "When a restaurant serves foods with several ingredients that are mixed or cooked together and then used in multiple menu items, it can be more difficult for epidemiologic studies to identify the specific ingredient that is contaminated."
That's also why CDC officials couldn't identify the culprit. "A review of Chipotle's distribution records by state and federal regulatory officials was unable to identify a single food item or ingredient that could explain either outbreak."
An initial, larger outbreak infected 55 people, and a second, much smaller outbreak affected five people.
The fast-casual burrito vendor responded with a major overhaul of its 1,900 locations food prep methods, and its pinned tweet still promises a national employee meeting on February 8 to talk about safety.
During the investigation, health officials interviewed ill people about foods they might have eaten before they became sick and in the initial, larger outbreak, 47 of 54 people interviewed reported eating at Chipotle — at least 17 different restaurants in eight states:
In the smaller outbreak, all five people reported eating at Chipotle and three ill people ate at the same Oklahoma location. The ill person in North Dakota traveled to Kansas during the exposure period and ate at the same Chipotle location as the ill person in Kansas:
Still, the stock took a 26 percent hit over the last three months. Today's $22.20 a share spike in an otherwise down market is a good sign it can rebuild its value. (Assuming its customers haven't developed a taste for Dos Toros.)