Oh Great, Chipotle's E. coli Outbreak Spreads to Three More States
Pass on the Chipotl'E. coli.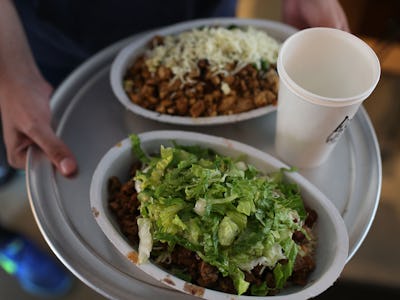 Joe Raedle/Getty Images
It might be time to get your burrito fix anywhere but Chipotle. The Centers for Disease Control just announced on November 20, 2015, that another three states have been added to the list of places experiencing an outbreak of E. coli at various Chipotle locations.
On November 1, 43 Chipotle restaurants were shut down after an E. coli scare came to light with 22 people falling ill in Washington and Oregon. Before long, the count had risen to 40 sick burrito fanatics, and Minnesota became the home of more iffy Chipotle spots on November 6.
Despite Chipotle pointing out that there's no evidence to suggest fast-casual lovers in other states should be worried about stuffing their faces at the restaurant chain… there's probably at least a little reason to worry.
Since the last update on the Chipotl'E. coli outbreak on November 17, New York, Ohio, and California have been added to the list of places affected by the same Shiga toxin-producing Escherichia coli O26 (STEC O26). According to the CDC, this strain of E. coli is the pathotype that is most frequently associated with widespread foodborne outbreaks.
As of November 19, the official count of people infected with the same strain of E. coli clocked in at 45 total: 26 in Washington, 13 in Oregon, two in Minnesota, two in California, one in Ohio, and one in New York.
The investigation into what's causing people to get sick hasn't yielded any results yet. However, 96 percent of the people who have fallen ill so far had eaten at a Chipotle some time in the week immediately prior. People who have diarrhea symptoms after eating at the chain should get in touch with their doctor right away.
Chipotle has yet to respond to the latest developments in this E. coli-filled saga, but it looks like business as usual on the company's Twitter since the CDC's newest announcement this afternoon:
The last time Chipotle sent out an official release about the outbreak was when the company reopened the 43 stores it had voluntarily closed in the Northwest on November 10.
Until we discover what's causing these tainted meals, maybe opt for a burger instead of a burrito. Because your burrito order is lame anyway.