Chipotle Closes 43 Restaurants After E. Coli Outbreak
Want extra guac with that?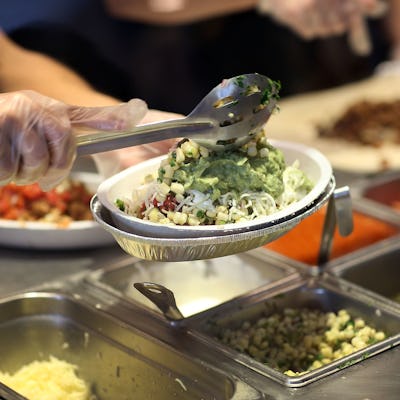 Joe Raedle
Chipotle has closed 43 restaurants after an E. coli outbreak in the Pacific Northwest. The announcement of the E. coli scare came on Halloween (which unfortunately coincided with the chain's annual "Boorito" special). By November 1, Chipotle announced that they would close dozens of stores in Oregon and Washington to prevent any other cases from cropping up.
The company is taking no more chances with their customers' health, since there appear to only be six restaurants related to the E. coli scare. So far, there have been 19 reported cases of E. coli in Washington and three in Oregon that have been tied to various Chipotle locations. So far, eight of the individuals have been hospitalized as a result of contracting E. coli from the restaurant, which can cause life-threatening stomach cramps, vomiting, and diarrhea. Chipotle has not yet determined what caused the bacterial outbreak.
"We immediately closed all of our restaurants in the area out of an abundance of caution, even though the vast majority of these restaurants have no reported problems," says Chipotle's spokesperson Chris Arnold in a statement.
This news comes just weeks after researchers at Duke University revealed that there are increasingly drug-resistant strains of E. coli spreading in community health settings. While that study was done in a hospital — a very dissimilar setting to that of the fast-casual restaurant chain — its findings reinforce the dangerous nature of contracting bacterial infections and our reliance on antibiotics.
Luckily, there have been recent leaps made in the fight against drug-resistant bacteria. Researchers at the Salk Institute have discovered a new kind of bacteria in mice that can act as an alternative to traditional antibiotics. While a similar "superhero" bacteria has yet to be found in humans, it's becoming increasingly evident that an alternative to traditional antibiotics needs to be found.
"Antibiotics were a huge step for medicine, but that model of killing bacteria with drugs clearly has its weaknesses," says Salk research associate Alexandria Palaferri Schiebe.
According to the U.S. Centers for Disease Control, 48 million people contract foodborne illnesses each year from bacteria, viruses, and parasites found in food. Two million people are infected with drug-resistant bacteria annually (which isn't always related to foodborne illnesses); however, complications from those bacterial infections cause over 20,000 deaths each year.
With one in six people getting sick from food each year and the increasing amount of drug-resistant bacteria, it's clear that this is an issue we need to think about each time we chow down.