'10 Cloverfield Lane' Trailer Reveals Real Horror During Super Bowl
After Lady Gaga sang the 'National Anthem,' the trailer for '10 Cloverfield Lane' revealed a lot about the upcoming movie.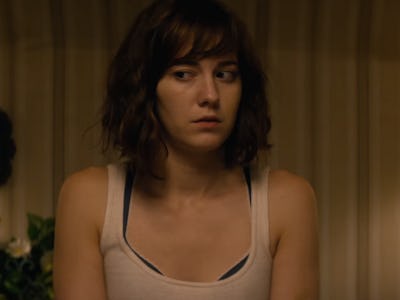 Paramount Pictures
Not exactly a sequel to the 2008 sci-fi flick Cloverfield, 10 Cloverfield Lane scored the first Super Bowl commercial slot after a fiery red Lady Gaga finished singing the national anthem, revealing a lot about the upcoming movie.
It was unclear whether or not the monster died at the end of the original film, but since the footage was recovered by the United States Department of Defense, it's implied that "the end" wasn't the end of humanity.
The film will again be produced by J.J. Abrams, but this will be the directorial debut for 34-year-old Dan Trachtenberg, former host on The Totally Rad Show and Geekdrome.
10 Cloverfield Lane will not be depicted in The Blair Witch Project style. It stars scream queen Mary Elizabeth Winstead who, it's revealed in this second trailer, woke up from a car accident in an underground bunker with John Gallagher, Jr. and the great John Goodman. She thinks Goodman, the guy who rescued her, might just be a plain old weirdo survivalist. She's not buying his tale that a chemical attack left Earth an unlivable mess.
The trailer also announces that "something's coming." It appears that Winstead manages to get out of the cellar. The film actually started out as a low-budget movie called The Cellar but turned into this legit Paramount Pictures production.
Here are the first and second trailers. 10 Cloverfield Lane opens on March 11, 2016.