J.J. Abrams' Secret 'Cloverfield' Pseudo-Sequel Is Coming This March
The next 'Cloverfield' monster is approaching very, very soon.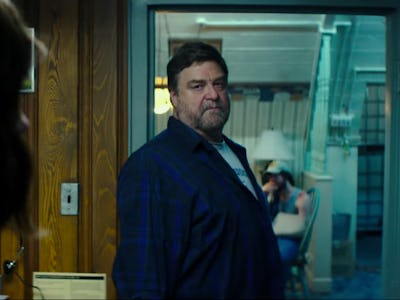 It's as if J.J. Abrams made Star Wars: The Force Awakens as a distraction.
In the wee hours of Friday morning, Paramount and Abrams' Bad Robot Productions surprised the world with the trailer for 10 Cloverfield Lane, a follow-up to the 2008 kaiju horror Cloverfield. Even more of a surprise: The film will release on March 11, barely two months from now.
The film is helmed by Dan Trachtenberg (Portal: No Escape) and stars John Goodman, Mary Elizabeth Winstead, and John Gallagher Jr. as paranoid survivors with an unknown relationship trapped in an underground bunker where a mysterious entity keeps them inside.
Abrams, the producer on this picture, describes the film as not a direct sequel but a "blood relative" to the first Cloverfield, directed by Matt Reeves. Abrams and company seem to be going for an anthology strategy instead of an ongoing serial narrative.
Departing from Cloverfield's found-footage style, 10 Cloverfield Lane is using more traditional cinematic techniques but in much tighter quarters. Judging from the trailer, most of the movie happens in the bunker, like a bottle episode of a sitcom but with probably more death.
Also departing from the original, this trailer offers up an actual title so conspiracy-obsessed teenagers need not waste time investigating viral MySpace accounts and YouTube videos. 2007 was such a simpler time.