Jackie Chan and Johnny Knoxville in 'Skiptrace' Is the Future of Hollywood
Whether you like it or not.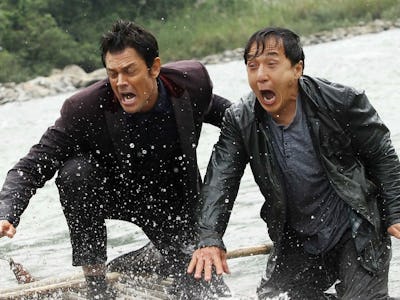 Exclusive Media
Hollywood and China getting cozy with each other is a well-documented trend. The evidence lies in recent news like Chinese investors buying the major studio Legendary Pictures, or American flops like Terminator Genisys or Pacific Rim being massive hit overseas. As domestic moviegoers buy fewer tickets, Hollywood going abroad to China means we're in for a strange era of Sino-American productions that are racially diverse but thematically empty.
With that in mind, consider the upcoming Skiptrace, starring Jackie Chan and Johnny Knoxville, and directed by five-time Razzies nominee Renny Harlin, a true cinematic pioneer. Its English-language trailer is now online.
Anyone old enough to remember 1998 might get flashbacks of Rush Hour. But an important distinction is how Rush Hour targeted solely an American audience, making cultural differences the butt of every joke. Skiptrace is noticeably less offensive, just as eyebrow raising, and makes Knoxville the incoherent clown, not Jackie Chan.
Still, the whole movie could fail to make sense, if it's attempting both Chinese and American comedy. Hardly any U.S. comedies are exported to China; case in point, the tonally similar 22 Jump Street didn't reach mainland China, and it performed a weak $560,000 total gross in Hong Kong.
This isn't the first movie in which Chan has starred alongside a Hollywood actor for an international production. Last year, Chan costarred in the historical epic fantasy Dragon Blade with John Cusack and Adrian Brody. It did gangbusters in China, but went unnoticed in the United States.