Chinese Investors Come Closer to Owning Hollywood as Wanda Buys Legendary Pictures for $3.5 Billion
The deal makes it the first Chinese company to own a major Hollywood studio.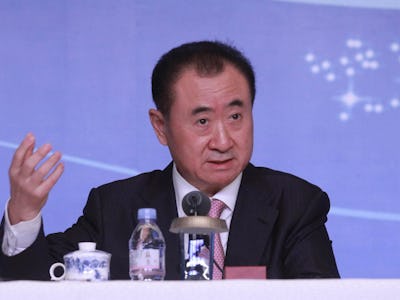 Getty Images
Legendary Pictures has racked up a significant roster of blockbusters since it was founded in 2000, including Jurassic World; Christopher Nolan's Dark Knight trilogy, Inception, and Interstellar; Man of Steel; Godzilla; Straight Outta Compton; and the Hangover trilogy. It knows how to make movies that a lot* of people want to see, which is why today China's Dalian Wanda Group acquired Legendary for the impressive price tag of $3.5 billion.
Wanda made the announcement that the company, and company chairman Wang Jianlin, will have majority stake in Legendary, while their current CEO Thomas Tull will remain in the same position as head of the studio. Legendary's upcoming slate includes Duncan Jones' video game adaptation Warcraft and the King Kong reimagining entitled Kong: Skull Island.
"There is an ever growing demand for quality entertainment content worldwide, particularly in China, and we will combine our respective strengths to bring an even better entertainment experience to the world's audiences," said Tull, and it's telling. Wanda is already the world's biggest movie theater operator, and previously bought AMC Entertainment, North America's second-largest cinema chain, for $2.6 billion in 2012.This new deal makes Wanda the first Chinese company to own a major Hollywood studio, which is the next logical step in furthering the country's power in the global entertainment market.
Previously, all talk and analysis has separated Hollywood and Chinese studio powerhouses, or American studios like Warner Bros. created their own China-based companies to gain from the explosion in Chinese box office potential. But now China will be a direct player in what will eventually become some of the highest grossing movies ever. Before, blockbusters like Iron Man 3 or Transformers: Age of Extinction attempted to cater to Chinese investors and worldwide box office numbers by including China-centric details in movies. Now Wanda owns the production company so they could potentially make changes directly.
Undercutting criticisms that the content of movies might change based on what is acceptable to Chinese censors, Wang was quick to say "I'm a businessman," and that "I buy things to make money, so I don't really think about government priorities. My main consideration is commercial interest." Tull followed up with a more universal sentiment by saying, "Frankly, we make movies that we want to see and thankfully they work here in China."
Whether this may be the massive shift towards globalizing blockbusters as we know them or if it's just a blip on the radar of the influential Hollywood machine remains to be seen. But rest assured we'll be seeing a lot more big budget, CGI-laden movies coming in the future.