Why 'The Force Awakens' Is Betting on China
The latest Star Wars film opens in China on January 9 and its makers are crossing their fingers.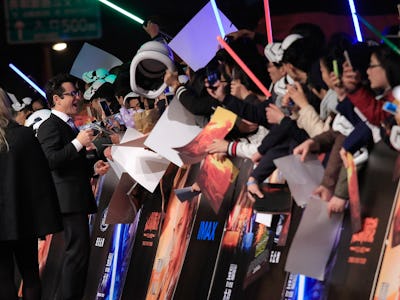 Last night, the makers of Star Wars: The Force Awakens, premiered the film in Shanghai for an enthusiastic audience. Given that the movie has already shattered every box office record — it surpassed $1 billion worldwide over the weekend — the studio now focuses their attention on China, where they expect huge returns.
"Certainly we're hoping and anticipating that it will play very very well here," Star Wars producer Kathleen Kennedy told the Associated Press, who attended the event, and called the success of the film today "a huge surprise."
Given that other blockbusters have had huge openings there — as well as some non-blockbusters — it's no shock to see the people behind history's biggest moneymaker actively court the world's biggest market. A huge box office in China will virtually lock up Star Wars' claim to the most successful movie in history, and as the franchise continues for the rest of time, knowing where they stand in China will become more and more important. It will be increasingly interesting to see just how well The Force Awakens performs, though; it will likely serve as a model of how to adapt films for Chinese audiences going forward. 
Not that the producers haven't already started — Kennedy points out that next year's spinoff film Rogue One will feature Hong Kong native Donnie Yen and Chinese director Jiang Wen.
"They play wonderful characters and certainly there are many mythologies inside Chinese literature that I know we can explore in the future and find ways in which we can integrate some of those stories into the Star Wars universe," said Kennedy.
The force is $trong with this one.