The Best Thing About 2016 Is the Reemergence of Florida Rapper Plies
The Florida rapper persists in making solid music and being an effortless charmer. Long live the career of Plies; its sustenance is all that matters in music in 2016.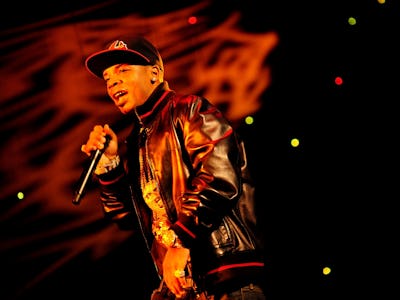 Ray Tamarra/Getty Images for BM
You may be excited by the psychedelic haze of the meditative new Rihanna album, or jazzed beyond a reasonable doubt about Kanye's new album Waves or Finger in the Booty, or whatever. But so far, the only aspect of music in 2016 so far about which yours truly has felt truly fired up is that our old friend Plies is maintaining some visibility.
The Fort Myers-based rapper is frequently in your favorite rap blog headlines, whether beefing with artists much bigger than him, posting endlessly watchable but often perplexing social media missives, or collaborating with like-minded street rap up-and-comers like Kodak Black:
Here's another fantastic recent track, clocking in at almost 5 million views:
These videos and songs are completely in Plies' wheelhouse — along the lines of the mixtapes, albums, and videos he has been releasing throughout his decade-plus career. Yet he maintains a steady fanbase. He manages to avoid fading into obscurity by releasing tons of music and freaking the world out on Instagram, Twitter, and Vine.
Here is his best relatively recent social media work. Forget about Rozay and Wiz.
The amazing thing about Plies is that he was once pretty much a fixture on the rap charts, in the days when so-called "ringtone rap," or Southern party rap, was at its apex in terms of commercial dominance. Between 2007 and 2010, Plies put out four albums, and three made the top five on the Billboard 200. His career has been a long, unwieldy string of hits, both national and regional. 2007's "Shawty" and 2008's "Bust It Baby Pt. 2" are his highest charting songs, but "Becky" is arguably his most iconic, a callback to a more carefree time in club rap.
Plies is also notable for being an extremely witty and charming guy off-record. This interview with Ebro of New York's Hot 97 shows the rapper poking fun at the self-serious, "real hip-hop" evangelist's condensing questions.
Part of the discussion brings up another great piece of the Plies puzzle: Music is his second love. Plies attended Miami University (of Ohio) and then the University of Central Florida, where he was a star wide receiver. Plies has widely maintained that his eyes were set on playing professionally for a long time, before music and street life pulled him away from that track. Doubt has been cast on how good his chances really were, but I'll believe the legend, and probably whatever Plies says. Snoop does:
Before talking more about why Plies is important, let me just also point out that he made this song, still likely the dirtiest rap song I've ever heard:
Plies is a compelling but unassuming cultural anomaly — the kind that we need as many of as we can get. The only side effect of his continuing prominence is that he keeps falling into new running beefs, most recently with rising Atlanta star and Inverse favorite Young Thug, which is why we are seeing his name so much these days. We can only hope nothing gets out of control.
Kevin Gates just pushed a major label debut to release and has three of its tracks on the charts. There is an audience for traditionalist, hardnosed, cookin' and fuckin' Southern trap music like this in the hearts of this country. And there is endless room for the ever-endearing Plies — the only good thing about Florida — in mine.