GM Trolls Tesla With Location for Chevy Bolt Promo Shoot
by Sam Blum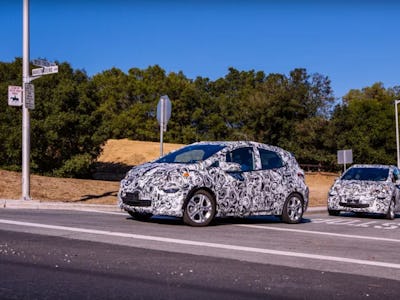 Tesla has traditionally stood at the forefront of the blooming electric vehicle industry, and its flashiness in the market has not endeared it to competitors, which have occasionally flung barbs at Tesla chief Elon Musk.
General Motors has become the latest in a line of automakers to throw shade at Tesla by conducting a promotional photo-shoot for the forthcoming electric Chevy Bolt right outside Tesla's front door:
The Verge observed that if you look closely, the Bolts are filing past the intersection of Deer Creek and Arastradero Roads, which is literally Tesla's backyard.
It's a move that seems to suggest that GM is lurking just around the corner from Tesla's bustling enterprise, even in a state where it has no official presence, and that the market is widening.
GM's posturing isn't all for naught: The flagship American carmaker is unveiling the Bolt, an affordable electric vehicle in 2017, which should stand to make Elon Musk sweat a bit if Tesla's Model 3 doesn't enter the market at a similar cost.
Some analysts have predicted that Tesla's affordable EV might be too luxurious and high-tech to come in under $35,000, and thusly have put the price tag at nearly double that cost.
Musk seems to thrive on the competition — even if he says it's merely "more participation."