You Can Now Smoke Your Smartphone
Check out Vaporcade's Jupiter smartphone that doubles as a vape.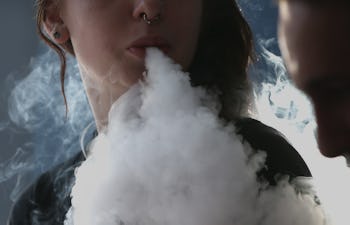 Justin Sullivan/Getty Images News
In stark contrast to Apple patenting an iPhone smoke detector, Vaporcade whipped up a smartphone you can inhale. Not just like you can sniff how unclean your phone is, but you can use it to vape, presumably with enough brainpower, whatever you want. This is the way to truly take that #vapelfe to the next level.
The gadget known as Jupiter dropped early November. But at CES 2016, The Verge's Ben Popper shows us how it looks to smoke this mama jama. In this video, he hits a prototype of this talk-able and smokable device in his Vegas hotel room.
You can purchase either the Jupiter IO 3 for the 3G smartphone (the 4G is coming out soon) or the Android KitKat 4.4. The 3G costs $299, and the 4G is expected to be priced at $499. And while we're talking cost, "The liquid cartridges cost $15 and come in flavors like mint, peach, and coffee," he explains, and amounts to four packs of cigs ― so not too bad if you're into that sort of thing. Wondering if there are "weed" flavors soon to be on sale in Washington and Colorado. Either way, Vaporcade claims it's FCC approved.
Sounds sort of like a totally dangerous device to use in the car. How do you choose between chatting with your mom and smoking some coffee?