Xiaomi's New Robot Dog Can Do Backflips Off a Skateboard
Eat your heart out, Boston Dynamics.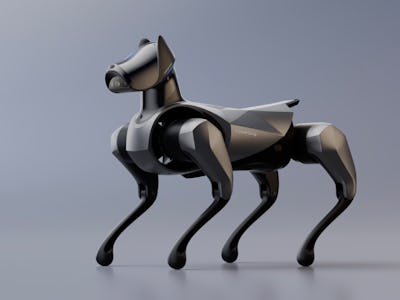 Xiaomi
All the dog, none of the responsibilities. Xiaomi showed off its second-generation robot dog called the CyberDog 2 during its CEO's annual keynote. We got to see a few of the CyberDog 2's tricks in some Twitter videos where it even backflipped off a skateboard. So far, the Cyberdog 2 looks slightly less creepy than Xiaomi's first attempt at a robo-companion that was announced back in August 2021.
Comparatively, the CyberDog 2 looks more dog-like and has adopted some features resembling a Doberman. Both of Xiaomi's robot dogs still feel like budget versions of a more practical design like Boston Dynamics' Spot, but the CyberDog 2 is designed for companionship and not commercial use.
OPEN-SOURCE MUTT
Xiaomi is powering the CyberDog 2's AI with a multi-brain system, where its main brain uses an NX processor, and its two secondary brains are powered by dual co-processors. The CyberDog 2 uses several cameras to see, including a 13-megapixel interactive AI camera, a 1-megapixel RGB camera, and two fisheye cameras with a 146-degree field of view. The virtual companion is sophisticated enough to not break a block of tofu thanks to its combination of ultrasonic, Lidar, fisheye, and force sensors.
With 12 limbs, the CyberDog 2 can run up to five feet in a second and has dynamic balance. It should be able to stop itself from falling, but if someone kicks it over, the CyberDog 2 can pick itself back up. Even though it's a robot, Xiaomi pumped self-learning AI that sampled 30,000 generated robot dog models, so it should behave like any robot dog would. Xiaomi is also allowing for a fair amount of customization since the CyberDog 2 was built with open-source programming and interfaces.
JUST LIKE A REAL DOG
Compared to Xiaomi's first-gen robo-dog, the CyberDog 2 is actually smaller and lighter since it weighs around 20 lbs and stands at around 14 inches tall. The CyberDog 2 does represent a clear upgrade from Xiaomi's first CyberDog, which went for around $1,500. According to Xiaomi's post on Weibo, the CyberDog 2 will be more expensive at 12,999 yuan, or around $1,800. Xiaomi hasn't said when it's planning to release the next-gen robo-dog, but it won't be long until we can fill our homes with all of Xiaomi's robots.