A Big Windows 11 Update Puts ChatGPT-Powered Bing Front and Center
To the surprise of no one, Microsoft will take its latest Windows update as an opportunity to further ingrain Open AI's ChatGPT.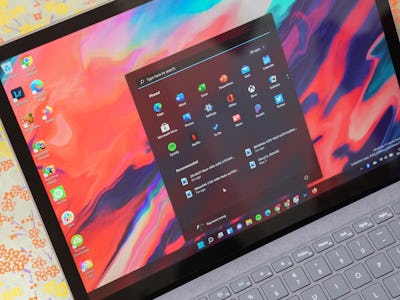 Microsoft isn't done riding the ChatGPT wave. In a significant Windows 11 update, Microsoft took the wraps off several new tweaks, including a deeper integration of its next-gen Bing and the ChatGPT-powered features it's made a splash with.
There's quite a bit to cover, but here are the highlights you won't want to miss.
Bing in Windows Search
Arguably the grabbiest update for most people will be the integration of the new AI-centric Bing into the Windows 11 taskbar.
For the uninitiated, new Bing fully embraces OpenAI's inescapable chatbot, ChatGPT, to help expand the utility of search — that includes adding some pretty sophisticated capabilities like generating comparison charts of products, creating vacation itineraries, or even composing "original" copy for social media posts or blurbs on command.
How exactly the integration into the Windows 11 taskbar will function is unclear, but according to a statement from Microsoft's Chief Product Officer Panos Panay, it will bring pretty much the full suite of ChatGPT-powered Bing's capabilities to Windows users.
"Soon hundreds of millions of Windows 11 users can get access to this incredible new technology to search, chat, answer questions and generate content from right on their Windows taskbar," said Panay in a statement. "And we have simultaneously enhanced the taskbar by implementing a typable Windows Search box so that all your Search needs for Windows are in one easy-to-find location."
Phone Link for iOS
For anyone in a hybrid ecosystem scenario, Microsoft's announcement of a "Phone Link" preview for iOS will come as welcome news.
Phone Link, which has been available for Android devices since Windows 10, brings tighter integration between windows and iPhones, allowing Apple users with the Phone Link preview to view texts and calls on their Windows 11 machine. Phone Link will debut as a preview for Windows Insiders according to Microsoft, and a full rollout is TBD.
And for all the Android fans worrying that Apple stole the show — fear not. Microsoft says the new Windows 11 update will also bring tighter integration for Samsung phones, allowing users to turn on their mobile hotspots and transfer browser sessions between devices.
AI Studio Effects
Microsoft's new upgrade will tweak settings in Windows Studio Effects, allowing users to easily adjust background blur, eye contact, and automatic framing. If you're in and out of a lot of video calls (maybe too many) then this should come as good news.
Snipping Tool
While the ability to record video directly in Windows' snipping tool might not be the sexiest update, it should be a giant relief for anyone (myself included) who has tried to screen-record video on the fly. If taking screenshots is an easy lift, screen capturing should be too.
To use the new screen recording features, users just need to open the Snipping Tool and select "Record." All screen captures will be automatically saved into a default folder.
AI Search
Bing isn't the only way Microsoft will embrace AI in its Windows 11 update. For Windows 11 Pro users, Search will begin recommending content inside the Start menu. The idea is that Microsoft's AI will be able to personalize your recommended actions, making it less of a pain to navigate menus and find the task that you need at the time you need it.
This won't affect average Windows users, but for anyone using a business account, I'm sure mitigating work tedium will be much appreciated.
Quick Assist
Microsoft also cracked open its Quick Assist app in an attempt to streamline any IT troubleshooting you may have to do. Notably, you'll be able to open Quick Assist straight from the Start menu and switch between screen sharing and full control during troubleshooting more easily. Quick Assist will also add a laser point tool that lets you highlight menus and icons during the process.
It's not exactly an endorsement of Windows' inherent usability that Quick Assist is an area of priority, but it's hard to argue with easier IT help.
More Widgets and Smoother Touch Controls
Fans of widgets in Windows 11 will get added functionality, too. Microsoft has added Phone Link and Xbox Game Pass, and has expanded functionality with some partners like Meta and Spotify.
Microsoft has also made an effort to make widgets more glanceable. In the company's own words: "by simply clicking the weather icon in your taskbar or swiping from the left, Widgets delivers important information..."
To help maximize screen real estate for anyone using Windows 11 on a 2-in-1 like the Surface Pro 9, Microsoft also tweaked UI to make the taskbar slide away automatically as soon as the screen is detached. Swiping up also pulls open Widgets and apps.
Other Notable Updates
Energy recommendations — Microsoft is adding more granularity to its energy recommendations tab, allowing Windows users to further customize how and when their device uses power.
Accessibility — The new Windows 11 update will expand support for more Braille displays and is bringing Voice Access out of preview to allow users to control apps hands-free.
Notepad — An update to the Notepad app will bring tabs to the table, and hopefully help keep your interface tidy in the process.
How to Download
All of these new features are available today on devices running Windows 11, version 22H2. To update, on your PC running Windows 11, go to Windows Update settings (Settings > Windows Update) and select "Check for updates."
Microsoft says it expects full availability for all of its new features by the end of March 2023.