After 27 Years, Tamagotchi Still Has More To Offer Than Nostalgia
Not only has the Tamagotchi endured since its release in 1996, but it's evolved with the times to continue bringing delight to users new and old.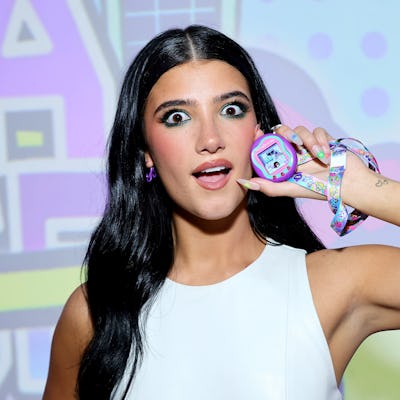 Theo Wargo/Getty Images Entertainment/Getty Images
Walk the toy aisles of your local Target today and, if you're lucky, you might spot a brand-new, full-color Tamagotchi sitting on the shelf in its iridescent packaging.
Bandai Namco released Tamagotchi Uni worldwide in July 2023, partnering with TikTok megastar Charli D'Amelio and Japanese influencer and model, Kemio, to kick off the widest and most mainstream launch of the toy in years.
Seeing it is a blast from the past for adults who haven't given much thought lately to the defining virtual pet of the Y2K era; many don't realize new ones are even made anymore. But Tamagotchi has quietly been chugging along all the while. This year's Tamagotchi Uni is only the latest in a lineup of progressively advancing models. It's also, perhaps, a turning point for the nearly 30-year-old virtual pet. A return to its roots.
While still serving the needs of its longtime fans, Tamagotchi seems eager once more to be discovered by a new generation of players.
THEN VS. NOW
Today's flagship Tamagotchi has a colorful 128 x 128 pixel display, compared to the meager 32 x 16 LCDs of the past. The screen's brightness and volume are adjustable — to rein in those piercing alerts. The gameplay is more complex, with movement-based activities, fast-paced mini-games, and basic internet connectivity so players can participate in worldwide events. (This September's Bunny Jump was a competitive pogo stick ascent through space.) You can do crafts and collect materials on timed walks to turn them into accessories for your pet. It's rechargeable, wearable, and can receive continual updates over Wi-Fi.
"It is kind of crazy to think that almost 30 years later it's still recognizable."
In some ways, it's worlds apart from the first-ever Tamagotchi. But in all the ways that matter, it's really not that different. A Tamagotchi today is instantly identifiable as exactly that — a Tamagotchi.
"It is kind of crazy to think that almost 30 years later it's still recognizable," a member of the long-running fan blog Tama-Palace, who wished to remain anonymous, told Inverse over email. "The device has always contained a screen, the iconic three buttons below, a built-in speaker, and the ability to wear it on keychain."
Across the many different versions, Bandai has more or less stuck to the original concept. "The core play pattern of the Tamagotchi remains the same: care for your virtual pet, and watch them grow. Other features are really great add-ons that build upon that core play pattern."
Tamagotchi is, and has been since its 1996 debut, about responsibility and the sometimes harsh reality of taking care of a creature that's entirely dependent on you for its survival. It's about love, yes, but it's also about cleaning up piles upon piles of poop. When you become a Tamagotchi parent, the two are inextricably intertwined.
"Pets are only cute 20 to 30 percent of the time, and the rest is a lot of trouble, a lot of work," Tamagotchi's creator, Akihiro Yokoi, told The New York Times in 1997. "I wanted to incorporate this kind of idea into a toy, for pets these days are only considered cute. But I think that you also start to love them when you take care of them."
Yokoi pitched the idea to Bandai in 1995 as a watch with a built-in pet that kids could take with them anywhere. That's where the name comes from, smushing together the Japanese words for "egg" (tamago) and "watch" (uotchi). The concept was refined and simplified with the help of Bandai developers, to become the keychain-style toy that's now seared into the collective memory of a generation of kids and parents. The first Tamagotchi devices launched in Japan in November 1996, and an international release followed a few months later, in the spring of '97.
It took 25 years for Bandai to come back to the original idea of a Tamagotchi watch and finally act on it, with 2021's Tamagotchi Smart and now with the new Tamagotchi Uni. (While there were Tamagotchi-style watches at one point, with the Gotchi Gear Tama-Watchi, they didn't have raisable characters). In the space between, Bandai produced dozens of iterations on the classic keychain design.
EVOLVING WITH THE TIMES
"Bandai is constantly innovating," Tama-Palace notes, and as technology matured, Tamagotchi matured with it. Over time, that's allowed Tamagotchi to add more fun to the equation.
Apart from a hiatus after a string of 1998 releases, Bandai has semi-steadily been putting out new incarnations of the Tamagotchi since 2004, starting with the pivotal Tamagotchi Connection series. Tamagotchi Connection, which was available internationally, brought the ability for players to connect two devices using short-range infrared technology so their pets could interact and share items, and built on the element of marriage, two features that remain a part of the experience today. It also introduced the website TamaTown with its third version, bringing Tamagotchi gameplay online in 2006.
Tama-Palace, which shares Tamagotchi news and updates across its blog and social media, started up after the launch of Tamagotchi Connection, telling Inverse: "We jumped right back into the community and then never stopped." Bandai expanded on the Connection lineup for almost a decade, typically releasing devices first in Japan, with the U.S. and other countries down the line.
At the same time, however, the company ramped up the creation of Japan-exclusive Tamagotchis, reserving the most advanced new devices for that market alone. In 2008, Tamagotchi got its first full-color screen with the launch of the Tamagotchi Plus Color in Japan. Then came new methods of downloading content in the 2010s with Tamagotchi iD and Tamagotchi P's, the latter of which involved jewel-adorned "deco pierce" pins that slotted into the device's face. Bandai later experimented with NFC as a means for connecting two devices, as seen in the Tamagotchi Friends (2013/14, international) and Tamagotchi 4U (2014, Japan-exclusive), before ultimately nixing it and returning to infrared.
Following 2013's Tamagotchi Friends, though, the U.S. didn't see a new core Tamagotchi device until 2019. During that gap, Bandai treated U.S. users only to the Tamagotchi Mini rereleases, which heavily targeted nostalgia and didn't have any modern features, and the similarly pared-down Tamagotchi Nano. Meanwhile, Tamagotchi pets in Japan had become advanced enough to spawn offspring with their mates that would exhibit traits from both parents, starting with the M!X in 2016.
Diehard fans and collectors outside of Japan paid extra for imported devices and did the best they could to work around language barriers. For those less invested or without the resources to keep up, their attention turned elsewhere.
WESTERN RENAISSANCE
When the Bluetooth-capable Tamagotchi On (the English-language version of Japan's Tamagotchi Meets) finally arrived in North America in 2019, it was the first Tamagotchi on this side of the Atlantic to feature a color LCD screen. It carried over the genetics component, too, and had a corresponding smartphone app that allowed players from around the world to mingle. Bandai soon after started rolling out more and more of its pop-culture-crossover Tamagotchi Nanos, some of which came to the U.S. and Europe.
That's initially what got Matt, who runs the mail-in Tamagotchi repair service, Tamagotchi Center, interested in the devices again — a Pac-Man Tamagotchi Nano.
"In '97, when I got my first [virtual pet], it was not even a Tamagotchi. It was a knockoff, and I was really jealous of everyone who had the real one," Matt, a French web engineer, says. When it eventually died, he forgot about it. "Until 23 years later. I found out about this Pac-Man Nano Tamagotchi, and that's when I realized I missed out on a lot of these. I didn't know there were so many different devices."
"So, I started buying some," he said. "I had the Tamagotchi On, the newest color model at the moment, and then I started to collect them all." Naturally, as an engineer, he soon started taking them apart, studying how they worked, fixing faulty devices, and eventually trying to help other users repair their own. Tamagotchi Center, which is not his day job, expanded to include a shop with English-language device conversions and patches, and WebMeets, a database of downloadable content from the On/Meets family.
When Bandai released the Tamagotchi Pix, which has a built-in camera, in 2021, it marked a notable shift in its approach. It was available in numerous countries at launch — but not in Japan. Pix brought QR codes into play, giving users a new way to send and receive items, and initiate playdates. It was experimental, bulky, and relied on flat, touch-sensitive buttons instead of the traditional raised ones. A second, slightly upgraded version called Tamagotchi Pix Party was released the year after in the same regions.
Just months later, Bandai brought the Tamagotchi concept full circle with another Japan-exclusive release, the watch-style Tamagotchi Smart. The Smart features a touchscreen, content download cards, and a removable band so it can be either worn or carried. It also introduced USB-C charging — even a Tamagotchi got USB-C before the iPhone — allowing Tamagotchi to finally move away from batteries that needed constant replacing.
Fans took the arrival of Tamagotchi Smart as a sign that something bigger was coming. It sparked months of rumors, and Reddit sleuths eventually tracked down the patent filing for a Wi-Fi-enabled Tamagotchi that appeared to build on the capabilities of the Smart and would be released internationally. When an Amazon listing for Tamagotchi Uni briefly popped up in the spring of 2023, complete with a picture, fans confirmed their suspicions.
Fast forward to this summer and D'Amelio, Gen Z's internet Cool Girl, is promoting the new Tamagotchi Uni watch and its built-in "Tamaverse" at a launch party in New York City.
NEVER QUITE IRRELEVANT
Though the Tamagotchi fandom has shifted to the periphery in the West, its community never died out. TamaTalk, a forum that's been around since the early 2000s, still gets daily contributions. There are 44,000 Redditors in the r/tamagotchi subreddit, which has become a wholesome mix of both new and seasoned Tamagotchi owners sharing tips, pictures, complaints, and item codes. Etsy shops offer hand-crafted Tamagotchi accessories — from crotchet cases to custom faceplate inserts. Rarely does a week go by without a new user popping in to say they've rediscovered the devices and were hooked, whether after finding an old Tamagotchi in a box of forgotten items or by hearing about a current model.
On the wider cultural level, the impression the Tamagotchi left has been a lingering one, despite periods of its absence. It still manages to crop up in the contemporary conversation from time to time. Last year, a viral TikTok clued viewers in on a little trick for staying hydrated: fasten a Tamagotchi to your water bottle. A Tamagotchi-lookalike device turned out to play a major role in the 2022 Pixar movie, Turning Red, and Tamagotchi was name-dropped in 2023's Blue Beetle.
In recent years especially, Tamagotchi seems to have regained a cool factor it maybe never really lost. Just this spring, Supreme teamed up with the brand for a series of camouflage-printed Tamagotchi devices and a logo shirt featuring Mametchi, the most recognizable Tamagotchi character. Months prior, A$AP Rocky performed at Lollapalooza Chile wearing a beaded Tamagotchi necklace.
Bandai has worked particularly hard as of late to ensure Tamagotchi's continued relevance beyond its retro appeal. Its Tamagotchi Nano series has served as a vehicle for consistent pop-culture collaborations, aiming at fandoms with official Tamagotchis for major movie franchises like Star Wars (there's a Baby Yoda Tamagotchi, obviously), Jurassic Park, and Toy Story, and popular anime/manga including One Piece and Demon Slayer. The earlier-mentioned Gudetama Tamagotchi serves apathetic realness from the moment it hatches until the moment it dies, ending up as a cooked egg dish.
Nostalgia, while it helps, will only get a product so far, and Bandai is again starting to look for new blood in a more significant way. Its partnerships with fresh-faced influencers make that abundantly clear.
"It's really important that Bandai continue targeting the younger generation to get them into the community to continue the growth of the brand."
"It's really important that Bandai continue targeting the younger generation to get them into the community to continue the growth of the brand," Tama-Palace told Inverse. Even so, it also needs to do right by the fans who have stuck around all these years. Tamagotchi Uni, at least, attempts to strike that balance. For one, it brought back real buttons — the lack of which proved to be a major pain point for many Pix and Smart users. Its Tamaverse is no replacement for discontinued extensions like the TamaTown website and, more recently, the Tamagotchi On/Meets apps, but it's a start.
Tamagotchis today have a new demographic working on their side, too: parents who grew up with the originals. "I got a lot of feedback from people who play with their kids," Matt says. "We knew [Tamagotchis] and we want to discover what the new toys are, but we have kids now and we want to [pass it on] to them as well."
In this way, too, it is a full-circle moment. The virtual pet's impact never fully left us, and at this rate, maybe it never will.