A "Quest Pass" Could Be Meta's Secret to Keeping People Interested in VR Games
Meta has difficulty keeping people interested in VR after buying a headset. Could a Game Pass-like subscription service help?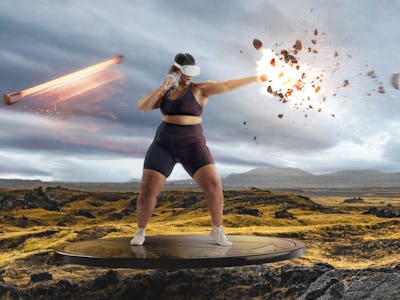 Within
Meta has a retention problem. Specifically, it's had tremendous success selling its Quest virtual reality headsets but has a much harder time keeping customers using them after purchasing them.
The company has sold "nearly 20 million Quest headsets to date," according to The Verge, but is very aware that customers who jumped on the VR bandwagon last Christmas aren't sticking around long-term. With the Quest 3 launching later this year, figuring out a way to keep people on the platform and interested in VR is of the utmost importance. A new reference to a Quest subscription service in Meta's mobile app could be the key to ensuring everyone stays invested.
A Subscription Service
References to the subscription service are viewable via a deep link to the Android version of the Meta Quest App, according to Twitter user @ShinyQuagsire. The app page says subscribers can get "up to two new apps or games every month with [Project Apollo]" and that as long as the two titles are redeemed by the end of the month you can "keep your apps as long as you are subscribed." There's nothing to suggest that this is a real service Meta plans to roll out, given just how little evidence there is, but that doesn't mean it isn't an idea the company could (and should) consider.
Meta is clearly interested in sources of recurring revenue. The new Meta Verified program the company plans on launching for identity verification, increased visibility, and customer support is the best example of what that looks like. Paying anywhere from $11.99 to $14.99 per month (with added perks on platforms like Facebook or Instagram) is a good way to get around a slowly failing ads business. A VR subscription service isn't novel, either. Viveport Infinity, HTC's software subscription service for its Vive headsets, gets at more or less the same idea a Quest subscription service could.
What a hypothetical "Quest Pass" could do best is leverage Meta's real asset: an already great library of software.
More Like A Sample Platter
Meta has spent loads of money financially backing and, in many cases, outright acquiring popular virtual reality apps and games. Just look at Beat Saber, Population: One, and the recently resolved acquisition of Supernatural's developer Within. It shouldn't be surprising Meta knows what apps are popular on the Quest 2 and Quest Pro; it runs the only app store those headsets ship with.
Creating a subscription service to let people try those experiences is a great way to get people started in VR and get them to explore what's already out there. The discovery experience in the Quest Store isn't great, but an incentive to try random apps is a good temporary way around that problem. There's a good chance VR software developers will figure out what VR headsets are good for well before Meta does. Why not let that be what a new user is exposed to first?
The best case for the Quest 2 has long been gaming. People smarter than me have reasonably argued that Meta is a game company in its own right. Why not take a page from Microsoft's book and launch a Game Pass to showcase your games? We probably won't know what Meta has in store until we get closer to the launch of the Quest 3, but here's hoping Meta's thought as much about software distribution as it has new hardware.