An iPhone revolution for RVs? The Pebble Flow Brings Tesla Tech to Luxury Campers.
The Pebble Flow might just do to the recreational vehicle market what Apple did to smartphones.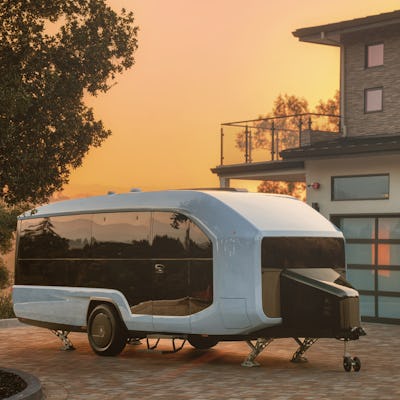 Pebble
The smartphone market was alive and well long before the iPhone arrived in 2007. Sales were booming, and early adopters had multiple, healthy platforms to choose from when deciding what kind of phone to put in their pocket — or, as often as not, to clip on their belt. The iPhone didn't do much new, it just did everything right and did it in a package that was accessible and attractive.
We might just be on the cusp of something like that happening for the recreational vehicle scene, and that's not something I say lightly. The Flow, from startup Pebble (no, not that Pebble), is a new travel trailer that looks like nothing on the road today. Its array of features make it far more accessible, including an interior loaded with tech, a huge battery with easy charging, plus a unique self-parking mode, all wrapped in a clean, aerodynamic shape that promises to be as efficient as it is attractive.
Like smartphones back in the day, travel trailers are nothing new, and there's a similar boom happening in the general recreational vehicle market. But, for the uninitiated, getting into the #RVLife can be intimidating. Trailers are expensive, many are built to terribly poor standards, and figuring out details like how and where to offload waste water makes buying one seem overwhelming.
All that is before you get into the whole ordeal of towing the thing where you want it, and then backing it into a precariously skinny space with an audience of well-meaning campers standing around to spectate.
Once you're over the hurdle of figuring all that out, camping in an RV can be wonderful. It lets you get out into nature while still having a comfortable, clean place to retreat when the weather, the bugs, or the neighbors turn against you.
The Pebble Flow has a few features that drop that RV barrier of entry significantly, and the first way is by eliminating many of the headaches of towing.
It starts with the initial hitch-up. Thanks to a pair of integrated electric motors, the Flow will drive itself right up to the ball on your tow vehicle and connect itself.
On the road, those electric motors help propel the Flow along like a Tesla. A 45-kilowatt-hour battery, about half the size of the pack in a Model 3, provides power to push it up hills, increasing the fuel economy or range of whatever you're towing it with. And, maybe more significantly, it'll recharge itself on the way back down the hills.
Once you get where you're going, disconnect the Flow again and drive it back into its spot like a giant remote-controlled car. Then, hit a button, and the thing automatically switches into camp mode. An electronic parking brake engages to ensure it won't roll away, while automatic legs extend to get everything level and secure. The stairs fold out, the awning deploys, and even the exterior lights pop on.
Pebble CEO Bingrui Yang calls this "Instacamp." If Yang's name sounds familiar, that's because he was a senior engineering manager at Apple, where he, as he puts it, "shipped like a billion iPhones."
Pebble is Yang's new project, an effort to reinvent camping and make it easier for more people to get out there. The above tech is a big part of it, but there's also an apparent obsession with clean, straightforward design.
"So, our design goal is to really maximize the space in a relatively small cabin, because physical space is the premium," Yang said. To do that, the Flow keeps things simple, uses lots of glass to give an open-air feel, and has a few tricks, too.
The bed in the master bedroom in the back folds up into the wall, Murphy-style, turning the bedroom into an office. The bathroom is framed in glass to give more visual space, but that glass fogs at the touch of a button for those not into voyeurism.
Meanwhile, the panoramic windows that span the whole thing ensure you won't need a virtual Zoom background to make your co-workers jealous on your next weekly check-in.
There's an induction cooktop in the kitchen, plus a refrigerator and microwave, and you'll even find an integrated food and water bowl hidden beneath the kitchen sink for your pup. The dining room table folds into a second bed, meaning the Flow can sleep four, heating or cooling itself with an integrated heat pump. There's even a 1 kW solar panel on the roof.
The reliance on bare wood and pure white surfaces gives everything a modern vibe. Compared to the wolf motifs and Formica you'll find scattered around the parking lot at your local RV warehouse, the Flow looks like something from the future, much like the iPhone looked in 2007 next to your average Windows Mobile device.
That extends to the construction. "It's entirely made of composite and aluminum materials, which give you the robustness and quality of the automotive world," Yang said, a Tesla-like approach to construction intended to reduce maintenance compared to a standard RV. He also claims the Flow lives up to its name with a third the drag of a traditional trailer, but without hard numbers, that's likewise a little difficult to verify.
Given all that, the Flow will be priced at a premium compared to average RVs. Pebble is targeting Airstream, the premiere mainstream trailer model manufacturer. The Flow measures 25 feet long and sleeps four. A similarly sized Airstream, a Flying Cloud 25FB, costs about $109,000.
It's appropriate, then, that the Pebble Flow starts at $109,000, on paper at least making it a compelling alternative considering the extra smarts onboard. However, if you want the flow with the dual-motor drivetrain, which Pebble is calling the "Magic Pack," the starting price there is $125,000.
Yes, that's an awful lot for a trailer, but it only takes a few minutes of looking at these pictures to start seeing this as not just a weekend getaway but as a potential weekday workspace, too. "We're not really just an RV company. We really envisioned this to be a lifestyle. This is a way for people to live, work, and explore from anywhere," Yang said. "A lot of people may find this to be better housing than paying rent."
The Flow is a lot more attainable and certainly more appealing than many Brooklyn or Bay Area studio apartments. At least, it will be if it ever becomes a reality. Pebble currently only has a few prototype trailers built for testing. Full production isn't slated to begin until the end of 2024. A $500 refundable deposit secures your place in line.
An iPhone revolution for RVs? Maybe, but before this thing can truly disrupt the travel trailer industry it needs to ship. Let's hope the Tesla-inspired design and technology doesn't extend to Pebble's approach to keeping timelines, too.