Exclusive: Why Two Brothers Are Building a Modern Electric Vespa in Brooklyn
We were invited to take an exclusive first ride of Pave Motors' BK, the adult-sized scooter you and your inner kid both need.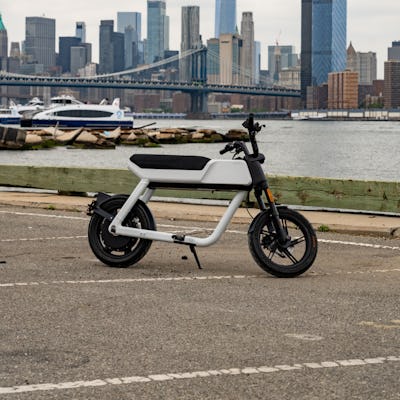 There's a beautiful simplicity to riding electric motorcycles: no droning engine, no hot exhaust to catch your leg, and no clutch or shifter to worry about. The best thing, though, is the serenity. While I love the sound of a screaming sportbike or snarling cruiser, I've come to really appreciate the silence of electric motorcycles.
Or, at least, I thought I had. I didn't realize just how quiet an electric motorcycle could be until I got a chance to ride the BK. This all-electric machine from Brooklyn-based Pave Motors is utterly, truly silent. While most electric motorcycles make a bit of a whir from the electric motor and some drone from the belt or chain, on the BK, with its hub motor integrated directly within the rear wheel, the only thing you hear is the wind.
The BK is an interesting proposition. While the market is flooded with power-assisted E-bikes like the Swissrider and RCA Explorer, and there's an increasing number of electric motorcycles to choose from made by companies like Zero Motorcycles and LiveWire, Pave Motors is splitting the difference with the BK, a $6,900 electric motorcycle with a top speed of 30 mph and a range of roughly 50 miles.
The BK is the product of Pave Motors co-founding brothers Caspar and Nico Nagel. Nico, 30, spent some time in the software and FinTech worlds before deciding he wanted to do something with his brother, an industrial design graduate from RISD.
"When we were younger, we would ride around on Vespas, and like 49 cc-type scooters. But, we didn't really see anything in the market that kind of used the advantages that you get with an electric drivetrain, like its simplicity, its lightness, to their favor in terms of design," Nico told me. "So, we figured we could come up with something that sits in between the e-bikes and the motorcycles."
Nico already lived in New York and his brother wanted to move there. "Manhattan is not the best place for hardware," Nico said, but they found a home at NewLab, a Brooklyn-based hardware incubator.
NewLab, which fills a massive building formerly used as a machine shop for the U.S. Navy, is alive with creative energy — not to mention curious robots and other contraptions. Its rooms are full of everything from 3D printers to high-end sewing machines.
But, equally important is the community. "There's a huge Slack channel," Nico told me. "And you could just throw in the questions and say, 'Hey, I'm looking for a supplier that could do this, this and this.' And usually, someone gets back to you within 10 minutes."
NewLab was a great start but, as the Nagel brothers got closer to production, their company ran out of room. So, six months ago, Pave Motors packed up and moved into Building 303, another part of the former Navy Yard. This place, too, is full of startups, but Pave's employees could spread out in a private room to begin the process of assembling the first production bikes.
It's a colder space than NewLab, with white walls and a polished concrete floor, but a stunning view over the Williamsburg Bridge to Manhattan beyond should help anyone lacking inspiration.
More important, though, are the shelves stacked high with parts. "That's all tires," Nico told me, gesturing to a mass of shrink-wrapped columns, upon which the first BKs will roll. Bikes are assembled right here, a process that, for now at least, takes about two hours per machine. The hope is to optimize, not outsource: "It's not really going to move the needle in terms of the cost," Nico said. "So, yeah, I don't see a reason for us in the near future to move the full assembly out of the U.S.''
Each bike, once built, is strapped to a pallet, shrouded in cardboard, and direct-shipped to eager pre-orderers, who will only need to worry about screwing on the mirrors — assuming they want mirrors.
Mirrors may or may not be a requirement depending on where the machine will be ridden. In New York, the BK fits into the "limited use class B" category of two-wheeled machines, basically equivalent to a 49 cc scooter. Its maximum speed of 30 mph means it can be ridden by anyone who has a driving license in most states and, indeed, most parts of the world.
"So, we're starting in the U.S., but our goal is to expand into Europe where the 49 cc class, like Vespas, are seen everywhere. It's the same in Asia," Nico said.
Taking inspiration from a Vespa is a curious thing for an American startup, since the lovely Italian scooters aren't exactly common here. They surely are in Europe, though, including Germany, where both Nico and Caspar originally hail. But you'd never know it from their style of speech; American accents carrying that easy-going, entrepreneurial confidence.
A $6,900 starting price puts the BK on par with a Vespa, too, but the all-electric nature of this thing is a significant advantage. There is, for one thing, basically zero maintenance. It's also quiet, clean, and deceptively light.
At just 126 pounds with the battery, the BK is far easier to move around than a motorcycle. When it was time for my BK test ride, I just rolled it over onto the elevator. But, thanks to the removable battery pack, owners won't even have to do that. The 1.85 kWh pack is only a little bigger and heavier than a lunchbox, making it easy to take inside and charge every night.
Controls on the BK are exactly like a normal motorcycle, with a twist-grip throttle on the right paired with a brake lever, which merges both the J. Juan disc brake up front and regen at the rear. A three-way switch lets you quickly toggle between Eco, Normal, and Sport riding modes. Turn signals are on the left grip, plus a horn button.
To fire up the BK, you just hold down the ignition button until a little green progress bar fills up the petite display mounted on top of the tank area. That display also shows speed, riding mode, and warning lights. It's tiny and simple but you should really keep your eyes up anyway.
When it comes to acceleration, I wouldn't call the BK brisk. It's a bit sluggish, really, but remember this is something that anyone can ride without a motorcycle license and that can go 50 miles on a battery small enough to fit in a tote. I'm more than willing to forgive it for not dislocating my shoulders under full throttle.
And that doesn't mean it isn't fun. I came to really enjoy my time on the BK. In Sport mode it's quick enough, great for ducking through traffic and scooting around double-parked delivery trucks.
The BK's wheelbase is extremely short at just 1,220 mm. That makes it feel even lighter and more nimble than it is, perfect for dodging the many and varied potholes that litter the Brooklyn Navy Yard.
And you will want to dodge them. While the BK has a motorcycle-style fork up front, the only suspension at the back is provided by the sidewall of the tire, the foam in the seat, and whatever padding you bring to the party on your backside.
That just made the ride more engaging and fun, forcing me to choose my lines carefully through the broken asphalt. And, when I climbed off the bike to grab a few photos, the Manhattan skyline looming in the distance, I couldn't help but be smitten by the design of the BK. It's simple and pure and offers nothing more than is absolutely needed.
But, of course, it wouldn't be a motorcycle if you couldn't add at least a few accessories. Pave Motors will gladly sell you a luggage rack that hangs off the back, or a 32-liter cargo compartment to fill that void within the frame. An optional fast charger will bring the BK's battery from zero to 80 percent in less than an hour. (A full charge takes six to eight hours otherwise.)
The Nagel brothers hope to have the first batch of 175 BKs shipped out by October. The next batch will be out by February. Production volumes after that are to be determined, but the entire assembly process has been designed to be easily replicated in Europe, which is the next target.
There are also plans for a sort of integrated, peer-to-peer ride-sharing network, with blockchain-enabled keys that would allow BK owners to loan or rent their bikes to anyone securely. And, with integrated GPS and LTE connections, you'll always know where your BK is.
Pave also has plans for follow-up models, including a faster bike more like a motorcycle and a lighter bike, "something that you may even be able to carry up the stairs," Nico said. But, refreshingly, this founder's eyes aren't spending too much time pondering the future. He's very focused on the now.
"For us, we're building a motorbike, right? So, first and foremost is, like, the motorbike needs to be working. It needs to be fun. Like, people need to enjoy that."
Photography by Tim Stevens