This ultra-lightweight e-bike looks like an urban commuter's dream
Thömus' Swissrider e-bike weighs in at just over 25 pounds, making it one of the lightest e-bikes out there.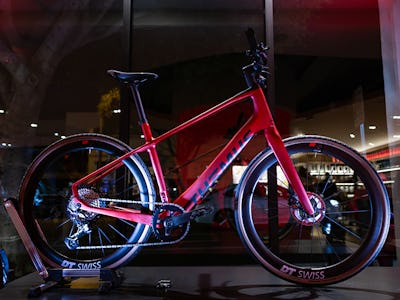 Thömus
There are lightweight electric bicycles out there, and then there are the ultra-lightweight options. Thömus, the Swiss company known for its lightweight electric mountain bikes, is porting over that same design philosophy over to commuter bikes with its Swissrider model.
The Swissrider is designed with commuting around cities in mind since it only weighs 25.3 lbs. That ultra-lightweight design makes it easy to carry up flights of stairs or into the subway station. The Swissrider may not be foldable, but it's definitely light enough that it's not a burden on your daily commute.
Thömus may have more experience developing electric mountain bikes, but the Swiss company wants to expand further into the urban category of e-bikes. There are already other extremely light e-bikes meant out there, but the Swissrider represents another strong contender with its discreet design that makes it look like just an ordinary bicycle.
Custom configuration — Thömus designed the Swissrider with an ultra-light carbon fiber frame that has a maxon Bikedrive Air motor tucked inside. The e-bike generates up to 30 Nm, or 22 lb-ft of nominal torque, but peaks out at around 40 Nm, or 30 lb-ft.
You can build the Swissrider with up to a 426 Wh battery, but there's an option for a 250 Wh range extender. Thömus is letting its customers configure the Swissrider however they want, but it comes default with a mudguard, cargo rack, integrated light, and road tires. You can swap out certain parts though, replacing them with wide gravel tires, straight handlebars, or racing handlebars.
Serious competition — The Swissrider is already available on Thömus' website in dark red, sand, or black colorways. If you want to see these in person, Thömus is opening up its flagship U.S. store in Santa Monica, Calif. The Urban Setup of the Swissrider starts at $5,750, while the Road Setup starts at $6,250.
The Swissrider does have competition, especially in the ultra-lightweight e-bike category. The Domane+ SLR from Trek weighs nearly 26 lbs, but is designed more as a road bike and starts at nearly $13,000. Alternatively, Ares Design revealed its e-bike that weighs just under 20 lbs and JackRabbit showed off its micro e-bike that comes in at 24 lbs.