Nothing Is Teasing a Mysterious Product on Twitter
Or maybe it's one elaborate April Fools' Day prank.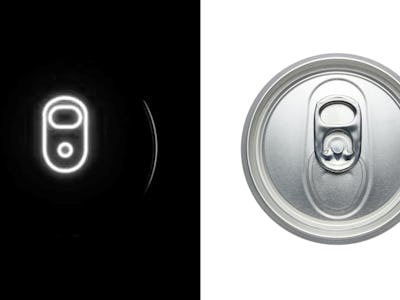 Nothing; Shutterstock
Update 4/1/22: Nothing's new product is... "Beer (5.1%)" and it's "not a joke." According to the company's website, "No, really. We made a beer. And it tastes really good."
From Nothing's Twitter account: "Crisp, unfiltered rice lager. Carefully crafted for a distinct and drier taste. Independently brewed in Wales, UK. Nothing engineer approved."
A tech company selling a beer sounds really strange, but if you connect the dots... Teenage Engineering recently made a beer. And Teenage Engineering founder Jesper Kouthoofd is also the creative lead at Nothing... so um, yeah device makers are now selling beers. Because why not?
The original story follows below.
***
Hot off the successful release of its Ear 2 active noise-cancellation wireless earbuds, Nothing is once again teasing something "coming soon" on its social media channels.
Posted to Twitter and Instagram, the tech startup shared the following video with the caption: "More buzz. Something else is coming."
Watch the video and tell us what you think Nothing is teasing. Turn on your volume and you might be clued in some more.
April Fools' Day Prank?
Naturally, speculation on the teaser ranges from reasonable to silly. Some people are hoping it's a smart speaker or a glimpse of the Phone 2 coming out later this year that CEO Carl Pei confirmed to Inverse. Others are looking at the calendar (today is March 31, but it's already April 1 in some parts of the world), and calling this an April Fools' Day hoax.
One Twitter user makes a strong case that the teaser is a can. Observe the angles, listen to the accompanying sounds, and check out that glowing glyph that sure resembles a soda can pull tab!
You're telling me these aren't the same thing?
They align perfectly...
You can't fool us, Carl!
At the end of the teaser is a bee. Nothing has been replying back to users with sly remarks like "don't be a buzzkill" and "we're buzzing" which clearly ties back to the bee. There's also a chance this beverage is of a CBD or alcoholic variety, hence all the "buzz" hints.
"Maybe they meant 'MORE BUZZED' Introducing: Nothing Beer," suggested Twitter user @MattyTheTechy1.
Who can be sure whether this is an April Fools' Day joke (we're still doing those on the internet in 2023?) or perhaps it's a merch product the company will sell at its London retail store or give out to fans. Guess we'll all have to sit tight and wait. Just lower your expectations for a tech product or you might be in for disappointment if it turns out to be a branded soda can or water bottle or just vaporware.
This article was originally published on