Nothing Removes New Messaging App That Made Green Bubbles Appear Blue on iPhone
Contrary to Nothing's claims, the Chats app was not end-to-end encrypted.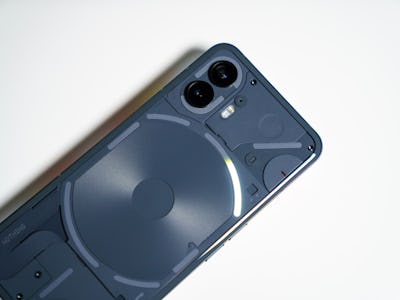 Photograph by Raymond Wong
Update: November 20 at 9:30 a.m. ET — Nothing has removed its Chats app from the Google Play Store after Texts.com discovered major security vulnerabilities within Sunbird's code. Texts.com founder Kishan Bagaria revealed messages sent via Nothing Chats were not end-to-end encrypted and Sunbird wasn't using the more secure HTTPS protocol over HTTP.
Dylan Roussel over at Texts.com's blog has an in-depth breakdown on the nitty gritty, but the gist is in this X/Twitter post:
- Sunbird has access to every message sent and received through the app on your device.
- All of the documents (images, videos, audios, pdfs, vCards...) sent through Nothing Chat AND Sunbird are public.
- Nothing Chats is not end-to-end encrypted.
Nothing's response to the disastrous rollout: "We've removed the Nothing Chats beta from the Play Store and will be delaying the launch until further notice to work with Sunbird to fix several bugs. We apologise for the delay and will do right by our users."
The original story follows below.
When it comes to text messaging, Apple's iOS doesn't play nice. Anyone with an Android phone can attest — the blue versus green bubble divide is real, and it's not fun (especially if you're single).
While Google and others have continued to lobby for RCS through sassy ad campaigns, the needle hasn't exactly moved, making way for, um, alternative solutions to getting your Android messages to play nice on iOS.
One of those solutions is Sunbird, which has partnered with Nothing to create a new app that's exclusive to Nothing's Phone 2. Welcome to the party: Nothing Chats. If you've got a Phone 2 and you're sick of being ostracized from group chats, here's everything you need to know.
Nothing Chats
The joint app is available on the Google Play store starting November 17, and is designed to blue-bubble your messages sent from the Phone 2 to an iOS device.
Nothing says Chats isn't just turning your green bubble into a blue one, it also offers access to other iMessage features like proper group messaging (one that doesn't break by adding Android users), live typing indicators, high-res pictures and videos, plus you'll get both read and delivery receipts. There will apparently be "more to come in the future," as well.
So, how exactly does a green bubble text message show up as blue on an iPhone or iPad? According to Nothing, Sunbird's "patented" process starts with creating or validating an Apple ID "natively on the Apple ecosystem."
After that, users can log in to the Chats app with their Apple ID username and password, and their credentials are tokenized and assigned to one of Sunbird's Mac minis in Europe of North America. Those Mac minis then act as a waypoint for iMessages sent through the app. So, in theory, your messages are actually coming from an Apple device instead of an Android.
Nothing says that all messages sent through Chats are encrypted and claims that "at no point can Sunbird access your messages or Apple ID." The only information Sunbird holds onto is your email for as long as your account is active. If you go dark for two weeks, your email removed from Sunbird's server according to Nothing.
That's a big deal given how important encryption is to both Apple and the iMessage experience.
But if the whole thing sounds like Sunbird is just routing messages through a bunch of Apple machines to you, then... you'd be absolutely correct. We'll have to test out Nothing Chats ourselves to see just how well all these features actually work. One Fast Company reporter's experience with Sunbird was mostly functional, though with a non-negligible amount of bugs. Call me a skeptic, but I'd be shocked if the experience of using Chats is as seamless as just using iMessage.
And while I still have questions about Nothing Chats, I did get a chance to talk to Nothing's CEO, Carl Pei, about the blue versus green bubble divide. Watch below:
Is this... legal?
I can't imagine Apple will be happy with apps like this floating around, and Nothing knows that. It's clear, however, that iMessage has long been a sticking point for people using iPhones who may or may not want to switch to Android. As I learned talking to Pei, most of Nothing's Ear 2 wireless earbud users are using iPhones, and not the Phone 2.
I can relate. I used Google's Pixel 8 Pro and was pleasantly surprised by how much I enjoyed the experience of using a flagship Android device, but still can't see myself willingly breaking all my friends' group chats.
Whether Nothing Chats will actually convert people to the Phone 2 is an entirely different story, but it's clear makers of Android phones are sick of being locked out and Nothing Chats is just a symptom of that divide.
This article was originally published on