I'm Obsessed With This Transparent Bluetooth CD Player
NINM Labs' Long Time No See Bluetooth 5.0 CD Player is pure retro fun.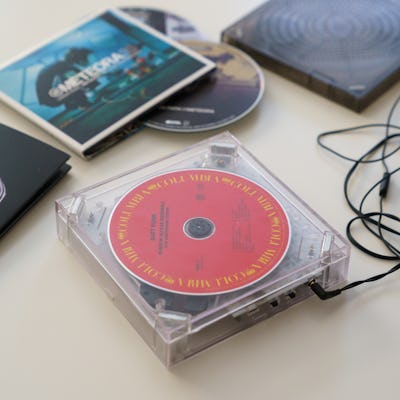 Photograph by Raymond Wong
I thought I was done with CDs and CD players forever when I got my first iPod over 17 years ago. But then Linkin Park released Meteora: 20th Anniversary on CD in April, sending me down a deep rabbit hole in search of a good CD player.
The Sony Walkmans and Aiwas of my youth had long hit the landfill. Naturally, after ordering the three-disc album on Amazon, I typed "CD player" into the Everything Store to see what would come up. What kind of CD player can you get in 2023?
The results weren't great.
As expected, Amazon is filled with what can only be described as cheap and shoddy garbage. The CD player choices essentially amount to some plastic junk from Craig Electronics (somehow still around) or some plastic junk from a brand you've never heard of. Good luck figuring out whether HOTT, ByronStatics, or SingingWood are reputable because the myriad fake four- and five-star reviews aren't helpful. Such is the current state of Amazon: a wasteland of knockoff products knocking off other knockoffs.
Other big-box retailers such as Best Buy and Target returned similar bargain bin options or none at all.
I made a checklist of features I wanted in hopes of narrowing down the options:
Portable
Rechargeable battery (preferably with USB-C)
3.5mm headphone jack
Physical buttons
Anti-skip protection
Built-in speaker
Bluetooth
Honestly, I knew I didn't need all the bells and whistles, but if features, like Bluetooth to connect wireless earbuds, were available then, sure, why the hell not? An AM/FM tuner never even made it on my list.
Paging through the sea of CD player trash on Amazon, I came across one design that reminded me of a product I had wanted when iTunes and streaming music services hadn't overtaken optical audio discs yet: Muji's Wall Mounted CD Player. (Full disclosure: I worked at Muji from 2008–2010, at which point any affiliation ended.)
Designed by renowned industrial designer Naoto Fukasawa in 1999, the Wall Mounted CD Player, became an iconic product for its minimalist form and function. It had three charms: the built-in speaker system design mounted to a wall; when played, CDs became spinning, mesmerizing artworks; to play a CD, you simply pulled on the cord.
Aside from its gorgeous design — worthy of being in MoMA New York's permanent collection — I remembered one thing while pining for it as a Muji employee: it was expensive. Unfortunately for me, the Wall Mounted CD Player is no longer sold in the US, and importing one from overseas would come with a hefty fee on top.
So I bought the Amazon clone. It was $40, a fraction of the $200-ish retail price it'd cost to acquire a new Muji one. But as soon as I set it up, it became apparent that the bootleg — even with more modern features like Bluetooth and the ability to play music off a flash drive — from Shiwakoto was a dud. The dual stereo speakers were tinny, Bluetooth connectivity with my iPhone was janky, and I'm pretty sure it put a sizable scratch in one of the Meteora discs. Plus, buying the cheap carbon copy wasn't nearly as satisfying. Thank god, for free returns.
Many, many YouTube videos, tweets, and Instagram posts later, I landed on the NINM Lab Long Time No See Bluetooth 5.0 CD player. (Yes, that's really the name.) It turns out that I had previously come across this CD player a few years ago when it was a Kickstarter and then briefly sold at Urban Outfitters (purveyors of all things old that are hot again).
While not much cheaper than the MSRP of Muji's Wall Mounted CD Player, the Long Time No See CD Player ($919 Hong Kong dollars or about $117 USD) struck me as an attractive cross between Fukasawa's design and the world's first portable CD player, the boxy Sony D-5 (D-50 outside of Japan). The '90s-inspired transparent design — a clear nod to plastic jewel cases — won me right away. You do know that translucent and transparent gadgets are back, right? More than anything else, the CD player straddles the line between retro and modern with its modular form factor. It's portable and magnet-mountable to a metal surface, designed for private or communal listening, and has Bluetooth connectivity.
I'm sure if you look hard enough, you could find a knockoff of the Long Time No See CD Player, but you'd be depriving this Hong Kong-based brand of its deserved earnings. The brand is so small that it declined to be interviewed. Similar to the Muji Wall Mounted CD Player, MoMA agrees that NINM Labs' CD player is equal parts art and technology to sell it in its Design Store.
NINM Labs' Long Time No See CD Player ticks off almost all of the aforementioned feature boxes for me. However, as with any form of retro technology that's not fully functioning vintage, you often have to accept some rough edges. If you're wanting the best-sounding CD player, the Long Time No See CD Player is not going to cut it. The speaker cover that fits over the CD with a satisfying snap is scratchy-sounding at best. It also uses two AA batteries; purists will nod their heads, but I would have loved a rechargeable lithium-ion battery. The silver lining is that you can use and charge up AA Ni-MH batteries, but the downside is that it does so via a Micro USB port, not USB-C.
Minor inconveniences aside, it's been a total blast using the Long Time No See CD Player. I dug up my old pair of wired Sony MDR-7506 headphones — the go-to classic cans for many professional editors and mixers — and let me tell you, Breaking the Habit and Somewhere I Belong sounded better than listening to the same Meteora: 20th Anniversary tracks on Spotify using AirPods connected to my iPhone.
Much like shooting with a film camera where the image quality can't hold a candle to an interchangeable lens camera or even the cameras inside your phone, there is a certain audio character to the sound of a CD. Even though songs are encoded as 0s and 1s onto the disc and read by a laser in the CD player, there's the subtlest of roughness — imperfection — that gives the stereo sound a soul that the perfectly cleaned-up streams don't reproduce. I'm not much of a vinyl guy, but it's similar to that segment of fanatics who feel CD quality is lifeless in comparison.
Not to mention, the entertainment value of listening to a CD on a CD player isn't about the audio fidelity so much as the experience of setting aside time to listen to an album and knowing there's a finite number of songs, placed in a very specific order by the artist and producer(s) to tell a story from beginning to end.
Sure, the Long Time No See CD Player has physical buttons for play, pause, and previous and next track, but there is no shuffle button. The CD player is a distraction-free music experience; there is no algorithm; there is no AI DJ. There is no random bouncing between artists or genres unless you put a new disc in — you are in full control. There are no notifications buzzing you. Streaming music services offer access to near limit-less songs, which I can't deny is great for exploring music tastes, but there's a real calming effect to giving your undivided attention to one album and one artist at a time. And, I love kicking back on my bed or couch, CD booklet in hand, following the printed lyrics. CD booklets and artwork — they're cool!
Recently, I took NINM Labs' CD player to a picnic and brought exactly one CD in it: Daft Punk's Random Access Memories (10th Anniversary Edition) and forced — nay, enlightened — some friends who had never heard it. Again, the speaker cover was rusty even at its loudest volume setting. Connecting it to a Sony XB100 Bluetooth speaker easily fixed that, adding stronger bass and less distortion at higher volumes, though the pairing process to a speaker or a pair of Bluetooth headphones can be hit or miss. While I had no issues pairing the XB100 speaker, Nothing Ear 2 earbuds, and AirPods (third-generation) to the CD player, neither of my two pairs of AirPods Pro (first and second-generation) would connect. Pairing typically took 10–20 seconds, but without a screen, troubleshooting is all but impossible other than turning off the Bluetooth switch and retrying the pairing process.
All of this is to say, I adore the Long Time No See CD Player. Though not remotely perfect nor practical when you want the best sound quality or longest battery life (it's good for around 8 hours on a pair of AA batteries, 6-ish hours connected to Bluetooth, and between 4–5 hours with the speaker cover), there's just something very redeeming and nostalgic to using it. I rediscovered a finer appreciation for the artistry, if you will.
Sometime between April and June, Urban Outfitters added a bunch of Sony and Philips CD players refurbished by Retrospekt. Had the Walkmans — believe it or not, I owned three of the models — been available in the spring, I probably would have gone with one of them for a purer throwback. I'm glad they weren't, though, because the Long Time No See CD Player's modern upgrades and striking design are superior on every level.
Photographs by Raymond Wong