This Beastly Off-Road EV Is Built to Save Lives in an Emergency
There haven't been many EVs designed for emergency responders yet.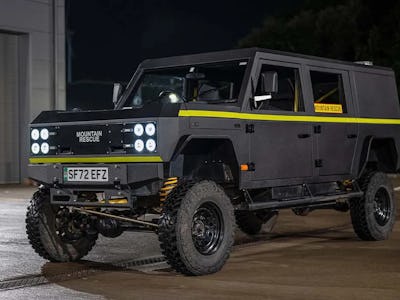 Munro
Munro's latest MK1 variant may be an all-terrain vehicle but it's recreation the company is chasing. The EV startup out of Scotland has already designed a third variant of its all-electric MK1 4x4 truck, this time specifically designed for emergency rescue and fire teams that need off-roading capabilities.
Munro has already landed more than 200 orders for its original MK1 4x4 electric truck that we first heard about in December 2022. While the Scottish EV maker is only starting production of its MK1 this year, it's already released two other variants for the MK1. Besides the newly announced Mountain Rescue Edition, Munro is also offering a Pickup version of its fully electric truck.
LIFESAVING ADDITIONS
For the MK1 Mountain Rescue Edition, the all-electric truck was built for emergency responders who need access to all-terrain capabilities. Munro mounted blue lights to the MK1's roof for better visibility and customized the truck bed to fit a full-size stretcher along with three passengers with emergency kit gear. Much like the back of an ambulance, mountain rescue teams will be able to administer aid in the back of MK1 Mountain Rescue Edition.
As for the specs, this variant would match the other MK1 models that get up to 190 miles of range and can fast charge in 30 minutes. The MK1 is designed for commercial use and can hit a top speed of 80 mph, but has a carrying capacity of 2,200 lbs and a towing capacity of 7,700 lbs thanks to more than 516 lb-ft of torque it's packing.
MADE FOR MOUNTAINS
Munro hasn't revealed pricing or availability details with the Mountain Rescue Edition, but its MK1 base model currently starts at nearly £60,000 or around $74,000. For its more premium Performance Edition, prices start closer to $104,000 but it comes with more range and more torque.