This Mixed Reality Quest 3 Demo Will Make You a Believer in AR Smart Homes
Picture controlling all your smart home devices with just hand gestures.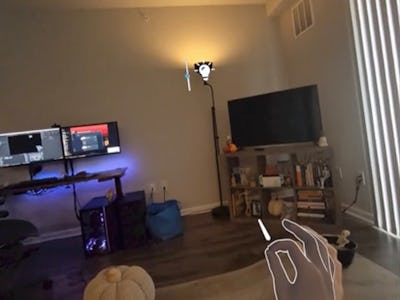 devtom7 / Twitter
Mixed reality is making a lot of cases. There's gaming, working, learning — just about anything you can think of. A lot of it is compelling, but if you're more into the practical side of mixed reality, we may have found something just for you.
Developer Thomas Ratliff showed off a short demo of a concept that controls smart lights while wearing the Quest 3 headset. It may be a simple app that just turns the light on and off or adjusts intensity, but what it lacks in "fun" it makes up for in practicality and polish. All that combined makes it feel like magic, especially to those not seeing it through the headset.
Ratliff says the demo was made easily, meaning there's a lot of potential here to integrate XR functionality with all smart home devices. Almost every home has a smart TV or speakers these days, but there are even smart fridges, ovens, and coffee makers out there just waiting to be activated in mixed reality. All we have to do is make VR headsets compatible with the Matter smart home standard and then the possibilities are endless.
MIXED REALITY MAGIC
Ratliff says that this demo was done through Govee's developer API and was "surprisingly easy to set up," using Meta's scene management tool to anchor the actual lamp in mixed reality. Since this was done through Govee's API, you could make this concept work with any of the company's smart lights so long as you have the developer know-how. We could see this working seamlessly with Govee's colorful hexagonal lights around your PC battle station since that's likely where you're going to be using your Quest 3 anyway.
Yes, you can already easily control all your smart home devices through a companion smartphone app, but if you're hooked into your Quest 3, why should you have to pull out another device to control your lights?
THE COLLAB WE DIDN'T KNOW WE NEEDED
While it's just a working demo at the moment, Ratliff's design shows a ton of promise for smart home integration with VR headsets. That still means you have to buy a Quest 3 and spend time to make it worth it, but the end result will have you feeling like Iron Man designing things in his workshop.
This is just a small demo, of course, but the concept really makes the case for augmented reality glasses like the ones made by Ray-Ban and Meta.