Mini Thinks a Virtual Bulldog is Key to Making You Love Smart Cars
Mini's Spike virtual assistant is modeled after an English bulldog and perfectly matches the Mini vibes.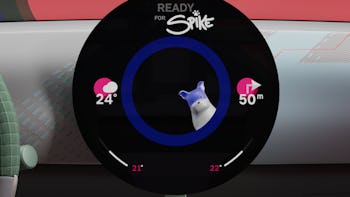 Mini
From man's best friend to in-car virtual assistant. Mini is planning to introduce its new in-car virtual assistant, designed with a little more personality than your typical voice-activated system.
Named Spike, Mini's digital assistant is modeled after an English bulldog that was introduced with Mini's rebranding in 2001. Now, the virtual dog is evolving beyond just a mascot and is making its official debut as Mini's in-car personal assistant in a conceptual vehicle. Instead of the dry and robotic responses we usually get from Siri or Alexa, Mini wanted something more personable. And what's more personable than an adorable bulldog?
SMART DOG
Spike is set to live in the defining central circular OLED display of Mini vehicles. The video teaser shows off some potential for voice-activated features and interactive functions, but Mini hasn't confirmed any capabilities yet. Interestingly, the conceptual vehicle looks like it will be able to project Spike beyond the borders of the circular dashboard. Mini didn't reveal any of the actual capabilities of Spike, so don't expect all the features seen in the video to actually make it to production vehicles.
For Mini, Spike represents an adorable approach to get us to interact more with their car's virtual assistant. Of course, this all hinges on the idea that drivers are more likely to use Spike because of its canine design. Other carmakers are also looking into further developing their own in-car virtual assistants, like GM, who is looking into ChatGPT models for its future vehicles.
SPIKE IN SHANGHAI
Spike is going to make its premiere at the Auto Shanghai 2023 trade show that goes from April 18 to 27 in China. The virtual assistant isn't production ready just yet and will only be seen in a Mini Concept Aceman at the auto show.
It feels like Mini is fairly committed to the idea of Spike, so it may only be a matter of time before it's integrated as the default personal assistant on all of Mini's production cars. Of course, there are plenty of capable virtual assistants out there. If Spike takes off, there's little stopping every car brand from offering their version of Microsoft's Clippy to take over the infotainment system.