Lamborghini's First EV Concept Is Part Supercar, Part SUV
Leaked images show off the interior and exterior of the Lamborghini Lanzador.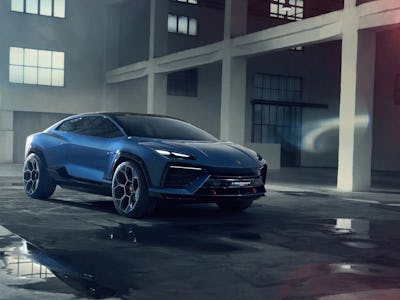 91Mobiles
While Lamborghini gets ready for its big reveal, leakers have already put out images of the Lanzador EV concept. The Lanzador will be Lamborghini's first fully-electric concept, which features a more practical design that falls somewhere between supercar and SUV.
The leaked images come from 91Mobiles and show off Lamborghinio's concept car in a coupe styling with clear influence from crossover SUVs. Lamborghini did previously tease that its first fully electric model would slot into the 2+2 grand tourer segment and the leaked images seem to back that up.
MY OTHER LAMBO IS AN AVENTADOR
Going off the images, the Lanzador still holds onto that classic Lamborghini hood that slopes right into the windshield and roof. However, the Lanzador's back end is more reminiscent of an SUV, particularly Lamborghini's Urus.
While the Lanzador is only a concept, it does confirm what CEO Stephan Winkelmann teased about Lamborghini's first fully-electric production model. Winkelmann previously told Autocar that its first all-electric car would have more ground clearance than Lamborghini's other offerings, and feature a more practical look than its supercars. The Lanzador's leaked images clearly show off a higher ground clearance and more of a daily driver look.
Inside, the Lanzador has rear-row seats that can fold down for more trunk space, but there's also a large frunk to fit more storage. The leaked images show two displays at the front, one for the driver and another for the passenger, and a 2+2 seating arrangement. In the center console, the Lanzador looks like it will have two USB-C ports and potentially a wireless charging pad.
IMMINENT REVEAL
We won't have to wait too long before Lamborghini debuts its fully-electric concept since it previously teased an August 18 reveal at Monterey Car Week. Once revealed, we should get the crucial specs like top speed, horsepower, and 0 to 60 mph times. Since the Lanzador is currently just a concept, don't expect it to hit the market. However, Lamborghini will draw a lot of inspiration from the concept for its eventual all-electric production model that's set to hit the market in 2028. Of course, you should still expect Lamborghini-level pricing.