Kia's Future EVs Are All About Chatbots, Mushrooms, and Affordability
Center consoles made of mushrooms and hemp? Apparently, that's Kia's plan.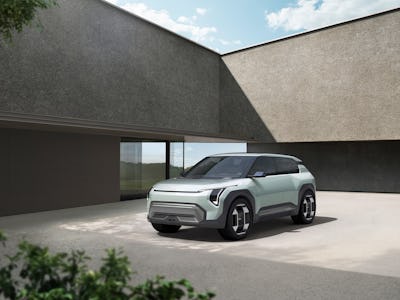 Kia
Kia's two latest conceptual EVs may look cutting-edge from the outside, but it's the innovative interiors that are a real preview of the future.
For its annual Kia EV Day, the Korean automaker revealed the Concept EV3 and Concept EV4. The two EVs are just concepts for the time being, but Kia has incorporated some unique sustainable materials like mushroom fibers and hemp into its interiors. Eventually, the production model versions will take advantage of generative AI assistants, too.
Even though Kia will likely tone down the Concept EV3 and Concept EV4 into more realistic commercial models, these ambitious EV designs have caught our attention. We're all familiar with sustainable materials like vegan leather, but interior elements made from mushroom fibers sound straight out of sci-fi.
Kia also debuted its much tamer EV5 which gives us a better idea of what to expect from a vehicle you'll actually be able to drive. For this upcoming range of EVs, Kia says it wants to keep the EV3, EV4, and EV5 between $35,000 and $50,000.
MADE OF MUSHROOMS
For the Concept EV3, Kia says it grew the material used for the console table. Marília Biill, head of Kia's Colors, Materials, Finish team, says Kia used mycelium, which comes from mushroom roots, to make a strong but soft surface. According to Biill, Kia's bio-fabrication process that develops grown materials to be used in EVs is still in its very early stages, but is a major goal for the carmaker. There's no telling if Kia will actually implement this mushroom fiber into the production model EV3, but we sure hope it does.
Kia also is planning on introducing generative AI into the 2024 model of the EV3, which it says will help drivers with managing schedules, optimizing routes with EV chargers in mind, or just having simple conversations. Kia says it will partner with top generative AI model providers for this initiative, which will eventually come to the production model EV4 and EV5, as well.
Love it or hate it, most automakers are embracing generative AI, so we're all going to have to get used to shouting into our infotainment centers.
KIA'S FIRST ELECTRIC SEDAN
For the Concept EV4, Kia also went with a sustainable design for its console table, using hemp fibers instead. The conceptual EV4 is actually Kia's first all-electric sedan, even if it does look more like a sporty fastback than a traditional sedan. To get those earthy interior tones, Kia applied natural dyes to the 100 percent recycled cotton, using madder roots and walnut shells for a color that falls somewhere between light brown and cream.
To maintain that relaxed cabin, Kia designed a "cocoon-like ambiance." Even though that doesn't exactly sound inviting, Kia kept the interior minimal with only two displays and an instrument panel. The company also designed several "Mind Modes" for the EV, including a "Perform" mode that only presents necessary info to keep you focused and a "Serenity" mode that makes for a more relaxed ambiance.
A FULL RANGE OF EVS
Even though these EVs are just concepts, Kia is signaling that it's not afraid to get experimental with its future offerings. We're probably not going to see mushroom fibers being used for EV interiors for a while, but at least Kia is ready to embrace inventive designs, no matter how wild it is.
Kia didn't mention any pricing details or release windows for either EV. We can expect a lot more EVs from Kia though, since it has indicated that it wants a wide range of EVs from $30,000 to $80,000. Even more, Kia teased its EV2 as a small, affordable EV coming in 2026 that's potentially less than $30,000, according to a TechRadar report.