Ikea's Mini Air Quality Sensor Makes Pollution Anxiety Stylish
The easy-to-read monitor measures a room's particulate matter, humidity, and temperature.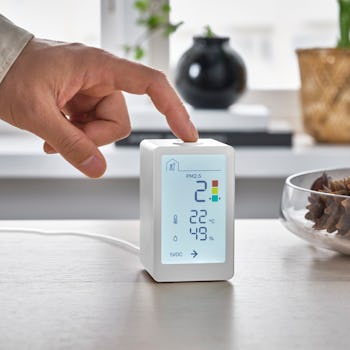 Ikea
You no longer have to wonder if your home has terrible air quality since Ikea introduced its indoor air quality sensor, the Vindstyrka. Like its other products, the Vindstyrka maintains the minimalistic design and affordable price that we've come to expect from Ikea. The Vindstyrka also updates its previous air quality sensor with some smart capabilities and a better display.
While we mostly think of air pollution in outdoor terms like from car exhausts or factories, Ikea says your cooking and cleaning habits can contribute to poor indoor air quality levels. On its own, the Vindstyrka can only inform you that your indoor air quality needs improvement. Ikea designed its mini monitor to be paired with its other smart home products, like its smart home hub and air purifier.
Made to be paired
Ikea kept the design of its indoor air quality monitor straightforward. It maintains a low-key profile and measures harmful particles in the air, along with humidity and temperature. The Vindstyrka will show you the PM2.5 rating with green, yellow, and red indicators on a large display, which also has room for the other metrics in an easily-readable display.
The full potential of the simply-designed Vindstyrka can be unlocked when paired with Ikea's Dirigera smart home hub. You can link the Vindstyrka so the monitor can trigger other smart home products, like the Starkvind smart air purifier to automatically adjust the fan speed.
Easy entry into a smart home
Since the Vindstyrka is just an air quality monitor, it's likely to be a lot cheaper than the other smart home devices that actually clean up the air. However, it's a smart move from Ikea to offer its customers a more affordable entry into its world of products that improve indoor air quality.
Ikea says the Vindstyrka will be available in stores and online starting in April but didn't reveal any pricing details. The air quality monitor should fall somewhere around its competition, which goes for around $100. It'll cost you nearly $300 though to upgrade your indoor air quality system with Ikea's smart air purifier that doubles as a table.