How To Turn Your HomePod Into a Smoke Detector
A recent update to Apple's HomePod smart speaker and HomeKit turns your device into a smoke detector.
by Henri Robbins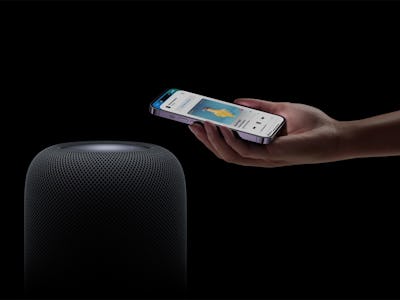 Apple
HomePods aren't just for playing music anymore. With the release of Apple's 2nd generation smart speaker, the company introduced a set of updates to the Home ecosystem that can help better control and monitor your house.
And we're not just talking about turning lights on and off. In fact, one feature might even help alert you in the event of a fire or gas leak.
How does the HomePod's Sound Recognition work?
Apple's latest update to the HomePod and HomePod Mini allows devices to use a sound recognition system that lets the speaker recognize specific tones. This feature currently allows the built-in microphone on the HomePod to listen in for smoke and carbon monoxide alarms, notifying you if either of the alarms goes off.
After receiving this notification, you can "check in" on your HomePod, which lets you monitor your home's audio, along with any HomeKit-enabled cameras you have connected.
The feature requires the new Home architecture introduced in March 2023, which can be installed through the Home app, and is compatible with both first- and second-gen HomePods, along with the HomePod Mini.
How can HomePod sound recognition be used?
This feature can be used to get warning notifications for smoke and carbon monoxide. These alerts will be sent directly to your iPhone (or other Apple devices).
Once you've received the alert, checking in allows you to both monitor the situation and communicate with anyone who's near the HomePod.
This feature can be useful if you are away from home and an alarm goes off. While one would normally be entirely unaware of the alert until they get home, sound recognition allows you to get a notification and respond in seconds.
Apple does, however, specify that the feature "should not be relied upon in circumstances where you may be harmed or injured, or in high-risk emergency situations."
How to turn sound recognition for HomePod on
Enabling sound recognition for extra safety involves just a few steps:
First, go to the Home app on your iPhone or iPad and tap the three dots in the top-right corner.
Then, tap "Home Settings" then "Safety & Security," and finally "Sound Recognition."
In "Sounds," you can toggle "Smoke & CO Alarm" to the "ON" position and then you're done.
It's worth noting that the HomePod itself is incapable of monitoring the levels of smoke or carbon monoxide in your house, even though the 2nd-gen HomePod has built-in temperature and humidity sensors. This means that, if you don't have a functioning alarm, or if the alarm is too far away for the HomePod to hear it, the function won't work at all.
Because of this, the best strategy for detection is likely to place your HomePod in close proximity to these detectors.