All of the Google Pixel 8's Powerful AI Camera Features Explained
It's now super easy to "fix it post."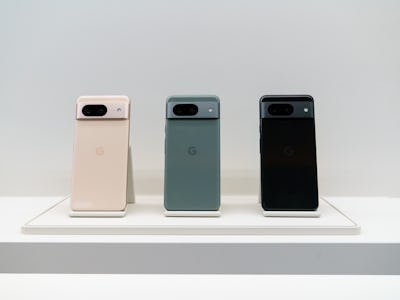 Photograph by Raymond Wong
For Google, there's no going back to the pre-computational photography days. The future of smartphone photography — at least with the Pixel 8 and 8 Pro — is more AI camera features to help get the perfect shot. A photo of a moment that may not be "real" thanks to all the AI processing or editing that can be applied.
We're navigating toward the choppy waters of what's real and what isn't with AI photography, but we can't deny the convenience that some of these features provide.
Google says its Best Take, Magic Editor and Audio Magic Eraser features will be available on its Pixel 8 smartphones as soon as October 12. Other powerful features like Video Boost and Zoom Enhance are coming later.
What do all of these features do? Let's break it down.
BEST TAKE
It's always a nightmare to get everyone in the group selfie to sync up their smiles for that perfect shot. With Best Take, you can snap a handful of back-to-back selfies and retroactively choose the expression you want for each individual face.
It's essentially image blending with a few taps and a much more user-friendly and intuitive design. While this has always been available through photo editing software like Adobe Photoshop, Best Take's simple controls put this power in the hands of all Pixel 8 owners.
VIDEO BOOST
Google's Video Boost will be coming exclusively to Pixel 8 Pro in December. As implied by the name, the feature applies Google's HDR+ tech for its photos to your videos. When you record a high-quality video, you'll still get the video immediately, but it'll also upload into Google's cloud where it's run through some computational photography magic.
With Video Boost, Google says processing a one-minute video at 30 fps is the same as processing 1,800 photos. Videos run through Video Boost not only have wider dynamic range than the original footage, but they're also stabilized.
ZOOM ENHANCE
Like Video Boost, Zoom Enhance is expected to arrive later on the Pixel 8 Pro. With this feature, you can zoom in on a photo you've already taken and crop it however you want. Even more, Zoom Enhance uses generative AI to make your cropped photo look less zoomed in by sharpening the details.
Google claims it works just like CSI's fictional "zoom and enhance" technology that magically adds details to a low-res image when it's enlarged. Basically, it's just image upscaling, which isn't perfect, but can product decent results.
AUDIO MAGIC ERASER
With Audio Magic Eraser, the Pixel 8 and 8 Pro can use machine learning models to identify background noises like people talking, music, or wind, and sort them into layers that you can adjust individually. Once you've lowered the background noise, you're left with the audio you want to hear. It looks pretty neat.
MAGIC EDITOR AND GUIDED FRAME UPDATES
While Google previously introduced Magic Editor and Guided Frame, there are some improvements that are worth noting. Magic Editor, a Google Photos feature included with a Google One subscription, is in its early phases, but it lets you quickly doctor an image to your liking. Using generative AI, you can tap or circle what you want to edit, then drag to reposition something or pinch to resize it. Magic Editor also has contextual suggestions that can improve lighting and background, even working its magic by swapping out a gray sky for a golden sunset.
Guided Frame was first seen on the Pixel 7 and 7 Pro, but it's been updated to work with both front and rear cameras. While it was meant to help visually impaired users snap selfies, it can now recognize more than just human faces, including dogs, dinner, and documents.
PRO CONTROL
Out of all these AI features, Pro Control feels the most anti-AI. Still, even as you manually finetune your photo with Pro Controls, Google's HDR+ computational photography tech is still enabled throughout.
With Pro Control, you can tweak the manual controls like white balance, exposure, focus, shutter speed, and ISO. Much like shooting in manual on traditional cameras, you get more say over what your final shot looks like.