Google's More Powerful Chromebook Plus Laptops Start at an Affordable $399
They've got twice the performance, twice the memory, twice the storage, and more.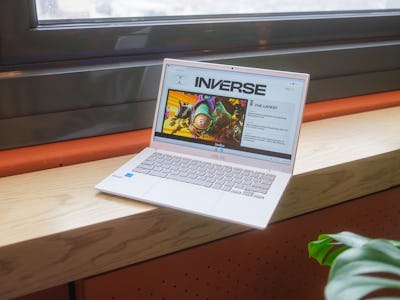 Photograph by Raymond Wong
Chromebooks have a reputation for being cheap — cheap hardware and cheap pricing. Google wants to change that perception with a new tier of ChromeOS-powered laptops called Chromebook Plus.
Starting at $399, Chromebook Plus is a category of Chromebooks with minimum specs that — to put it bluntly — don't suck. In many cases, Chromebook Plus devices will have up to twice the performance, storage, and memory of non-Plus Chromebooks, according to Google.
Available from device makers like Asus, Acer, HP, and Lenovo starting on October 8, Chromebook Plus laptops have "guaranteed specs" with at least an Intel Core i3 (or higher) or AMD Ryzen 7000 series CPU, 8GB of RAM, 128GB of storage, a 1080p IPS display, and a 1080p webcam.
Those specs are actually solid for the money, with many of the devices coming in at $399 with 14 or 15.6-inch screens. Certain bells and whistles like a touchscreen or a 360 hinge will push the price north, but by and large most Chromebook Plus devices cost $399 or $499.
Chromebook Plus Devices at Launch
Acer will have two Chromebook Plus, each for $399: the "Chromebook Plus 515" with a 15.6-inch display and Intel Core i3 and the "Chromebook Plus 514" with a 14-inch display and AMD Ryzen 3.
Asus will sell the "Chromebook Plus CX34" with a 14-inch display and Intel Core i3 for $399 and the "Chromebook Plus CM34 Flip" with a 14-inch display and AMD Ryzen 3 for $499.
HP is releasing the $399 "Chromebook Plus 15.6-inch" with a screen of the same size as its name and an Intel Core i3 CPU and the $699 "Chromebook Plus x360 14c" with a 14-inch display and Intel Core i3.
Lenovo will have a $499 "Flex 5i Chromebook Plus" with a 14-inch display and an Intel Core i3 and a $499 "Slim 3i Chromebook Plus" with a 14-inch display and Intel Core i3 CPU.
Coming Soon: AI Features
The minimum hardware requirements are only one half of a Chromebook Plus. The more powerful ChromeOS laptops will also come with extra Google-powered features such as a Magic Eraser and portrait-mode tools in the Google Photos app that even works offline, better offline file syncing, and improvements to video calling that use AI to upgrade things like call quality, lighting and reduce background noise. The AI-powered video enhancements, previously exclusive to Google Meet, are now available for any video calling app such as Zoom or Teams.
More interesting is the AI features that are coming in a software update "over the coming months." Google showed media, including Inverse, an AI-powered writing assistant (accessible via a right click) that can help write social media posts (i.e. the AI knows you're on Twitter and limits the character count and includes relative hashtags) and summarize websites. We also saw generated desktop wallpapers that could be created with a simple text prompt; Google says Chromebook Plus users will also get the ability to generate backgrounds for video calls.
Google is so confident that Chromebook Plus laptops will be powerful enough to perform creative workflows that the company is including a free three-month subscription to Adobe Photoshop on the web and Express with every purchase.
First Impressions
I didn't get a whole lot of time with the Chromebook Plus devices that Google had on hand for media to try out, and some of the laptops weren't even properly set up, but I do have some initial thoughts.
One of the Chromebooks, the Asus Chromebook Plus CX34, is surprisingly decent. The build quality is not premium — the display definitely flexes — but a dozen Chrome tabs didn't seem to cripple it. Granted, the laptop was a pretty clean install with only Chrome open, but still, the 8GB of RAM is way more sufficient than the 4GB found on many non-Plus Chromebooks.
Keyboard and trackpad quality varies depending on on maker and model. Many of the 1080p displays looked good — 14 and 15.6 inch are spacious — but a lot of them appeared somewhat on the dim side. The AI improvements for video calls are pretty neat — if you're in a lot of virtual meetings. So many of the launch Chromebook Plus devices have a lot of ports (USB-A, USB-C, HDMI, etc.) and some even have physical shutters for the webcams — I love it.
A minimum spec for battery life is the one thing Google is not guaranteeing with the Chromebook Plus label, though a spokesperson said the devices will need to meet the same 10 hours that all Chromebooks are required to.
At $399 and $499, the Chromebook Plus laptops at launch are definitely faster and a step up compared to budget Chromebooks that cost about the same. I could see these beefier Chromebooks take a bite out of cheap Windows 11 laptops, but north of $500, a Windows 11 machine like the Surface Laptop Go 3 with more features (especially app support) might be the better option.