Hands-On With the Surface Laptop Go 3, Microsoft's Cheapest Laptop
Starting at $799, the Surface Laptop Go 3 could be a hit with students.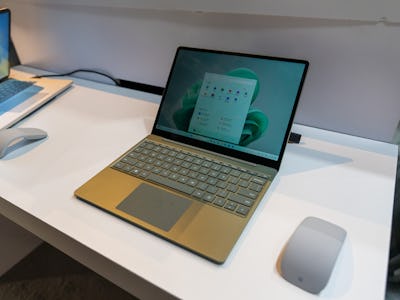 Photograph by Raymond Wong
Alongside the Surface Laptop Studio 2 — the most powerful Surface ever made — Microsoft also gave media hands-on time with its most affordable laptop, the Surface Laptop Go 3.
Releasing on October 3 (preorders start today), the Surface Laptop Go 3 sits on the opposite spectrum of the Surface Laptop Studio 2. It's nowhere near as powerful, a lot smaller, and doesn't have a transforming screen. But it does start at $799, which is a whole lot less than the $1,999 starting price of the Laptop Studio 2, and a lot more attractive for students and anyone on a lower budget.
A refresh to the Surface Laptop Go 2 released a year ago, the Surface Laptop Go 3 is pretty much a spec bump. It will be available in four colors: Platinum (silver), Ice Blue, Sage (light green), and Sandstone (gold). I think Sage looks the best.
The Surface Laptop Go 3 has the same 12.4-inch PixelSense touchscreen as before, including the same 1,536 x 1,024 resolution. It's a responsive display, but it's not going to give you the most pixels to multitask, that's for sure. It's also not the brightest screen.
Inside, there's a 12th Gen Intel Core i5-1235U CPU, Intel Iris Xe integrated graphics, 8GB or 16GB of LPDDR5 RAM, and 256GB of removable SSD storage.
Ports are minimal: a USB-C 3.2 port, USB-A 3.1 port, 3.5mm headphone jack, and Surface Connect. Microsoft is advertising up to 15 hours of battery life from a single charge. Just like the Surface Laptop Go 2, there's a fingerprint reader that supports Windows Hello sign-in.
When I reviewed the Surface Laptop Go 2, I said I appreciated its compact size and 2.49-pound weight. Though it wasn't the most powerful laptop and would often choke up quickly under most of my moderate workloads, I could see people using it for lighter tasks like writing documents, email, and web browsing.
Microsoft doesn't seem to be pushing the envelope too hard with the Surface Laptop Go 3. The company said it's "88 percent faster than the original" which sounds like a big leap, but that's a comparison to the first Laptop Go, not the Laptop Go 2.
Playing around with a demo unit for a few minutes, the Surface Laptop Go 3 felt smooth enough, but it was also a demo unit. And one that was mostly on display to show off Copilot in Windows 11, which ran fine on the smaller display, but I have concerns it doesn't have the oomph to pull off the kind of generative AI prompts and processing that Microsoft so clearly believes is the future of computing.
That being said, the Surface Laptop Go 3 is a small laptop. It's not a very powerful laptop, nor does it have the best features (i.e. the webcam is only 720p), but it's also not trying to be one. We look forward to reviewing this little guy soon.