Framework Finally Has a Modular Answer to the 16-inch Gaming Laptop
The company has created a compact, swappable GPU expansion system, a first for mainstream consumer laptops.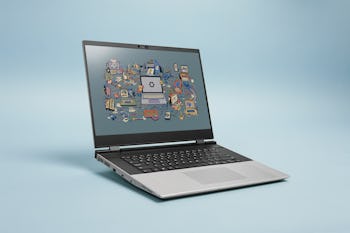 Framework
Framework is making a bigger laptop. The company teased its plans to apply its modular, repairability-focused design to a 16-inch laptop. The Framework Laptop 16 builds on Framework's original PC by including swappable ports and internals, and now — in a first for the company — with a completely modular graphics card system.
Assuming it all works as expected when it releases later this year, Framework is one step closer to offering a truly customizable personal electronics experience, thankfully without leaving behind any of its older hardware. Besides the Framework Laptop 16, the 13-inch model is getting new customization options, improved components that anyone can install on their existing laptop, and a new way to repurpose old chips.
Framework Laptop 16
The Framework Laptop 16 is designed to accommodate "gamers, creators, engineers, and more," according to Framework. The machine comes with a new "Input Module System," which lets you completely customize the lower half of the laptop on the fly with new keyboards, input methods, and even secondary displays. Framework is breaking up these modules into Small, Medium, and Large sizes, and like the Expansion Card system from the 13-inch laptop (also available on the 16-inch), making their design completely open source so the community can create new components whenever they choose. "The only limit is your imagination, and the 3.7mm height constraints," Framework says.
The other half of the equation is the "Expansion Bay System," which allows the Framework Laptop 16's graphics module (the GPU and companion components) to be upgraded literally by unplugging it and plugging in a new one. Framework says it designed the Expansion Bay to extend the depth and thickness of the laptop, so it should be able to accommodate future graphics cards easily. The company didn't share which graphics cards it would use at launch, but one assumes Framework could add more partners as it goes.
Even without all the specifics, the Framework Laptop 16 is an exciting development for the company, and even more evidence it could make this modular laptop business for everyone, not just people looking for something simple or portable.
Laptop 13 Upgrades and Alternatives
Of course, Framework didn't miss the opportunity to improve its existing Framework Laptop 13 either. The Framework Laptop 13 now ships with 13th Gen Intel Core chips, and after many requests from fans, AMD Ryzen 7040 series chips too. Both models start at $1,049 pre-built or $849 if you're willing to put them together and are available for pre-order today.
Like the switch to 12th Gen Intel Core processors last year, the company is also selling the new Intel and AMD chips in upgrade kits for existing Framework Laptop 13 owners. These kits can be reserved for a $100 deposit and should end up being around half the cost of a full-price laptop once they start shipping.
New Framework Laptop 13s will also include a new, more rigid hinge, a larger and more efficient 61Wh battery (on Intel Core i7 and AMD Ryzen 7 models), and the option for a matte display. Like the processors themselves, Framework is making these components available for purchase individually so you can upgrade older laptops (as I plan on doing with mine). So you don't waste your leftover mainboard after upgrading to a new 13th Gen Intel Core, Framework is partnering with Cooler Master to sell cases so your old parts can turn into a new lightweight PC.
Framework's products are not as aesthetically pleasing as say a MacBook Pro, but their charming, Frankenstein-look increasingly hides functionality you'll never get from anyone else. We'll have to test the Framework Laptop 16 and all of these new components ourselves, but for now, the promise of what Framework has achieved is truly impressive.